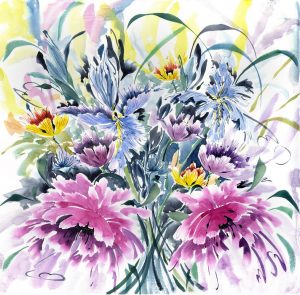 A charmed visit to Monet's home in Giverny became a moment of destiny when I saw his collection of Japanese Woodblock prints. As a Western artist, I began a search into the art of the East and it completely captured my heart. The saying "from heart to arm to hand to brush to paper" fully explains the immediacy of this art form and why it is a perfect means of expression for me.
Techniques: I love using the tip of a specialty Detail brush to create strokes such as tendrils that add movement to a painting. Also getting 'Flying White' with a Mountain Horse brush adds additional interest. I remember the following: light, dark, smooth, rough, thick, thin and try to have these elements in each painting.
Art for Sale: Absolutely! Visit nanraefineart.com or nanrae.com or send us one message.
Teaching: Nan teaches at her studio in Burbank and at the Huntington Botanical Gardens in San Marino, CA.
Floral subjects the last two Saturdays of the month and Landscape class every second Wednesday of the month.
Every Third Wednesday she teaches at the Huntington Botanical Gardens in San Marino, CA.
Send Message to listing owner
Please
log in
to be able to send messages to the listing owner.