Beppe Mokuza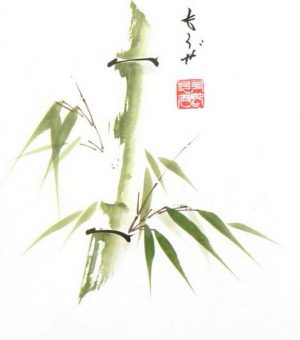 I am Italian and I have been teaching traditional Chinese painting for 25 years. I was involved into art because 30 years ago I started to practice Zen meditation (zazen) and in the dojo where I was practicing there was a Zen Monk called Ezio who was teaching sumi-e (Sumi-e is a Japanese term which means black ink painting). I was quite immediately touched by this art.
I had also lessons with three different Japanese masters who taught me different techniques but the one I liked the most was the method which I learnt from this Zen Monk. From that moment on my life started to change and I am very grateful to have in my hands those precious stones which is the result of painting and meditation combined together. This is what I teach to my pupils and I feel lucky to be able to help them through this skillful mean.
This method, taught correctly can lead to a real training of our consciousness through the brush, body-posture and breathing. It is an universal painting method for people of every country, every age and every culture.
It is the very source of the so called "Art Therapy".
Techniques: I do teach a sumi-e method (suibokuga – shuimohua) which is transmitted by Japanese Zen monks, it involves the whole body and the breathing. I am the only one in Europe who teaches this kind of method.
I sometimes also teach the Zenga method.
Art for Sale: I am not commercial so I do not sell my works but if somebody asks me I would be pleased to paint and discuss with the future "client" of the dimensions, support, subject, price, shipping and so on.
Teaching:  yes I do teach, I hold workshops all over Europe. The main place is Alba where I hold 9-day-workshop with students coming from all the parts of the world !
Telephone: 0039 3283863065
Send Message to listing owner
Please
log in
to be able to send messages to the listing owner.