Bob Schneider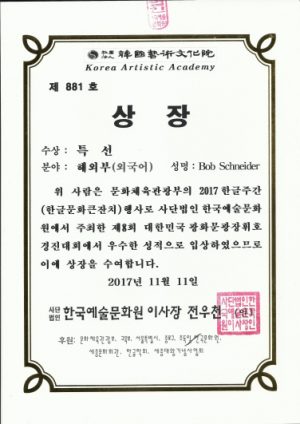 I was born in Berlin, Germany.
I Studied Montage and editing at the University for film in Potsdam-Babelsberg. Graduated in 2001 with a diploma as Master in Filmediting.
Since 1992 I am working as a comedian and cabaret artist on stage and in films. I am also the author of several comedy scripts and books.
From 2014 to the present day I am studiying calligraphy and ink painting with zen master and master of Korean Callipraphy Byong Oh Sunim in Berlin at the Korean Institute Of Culture.
In 2017 I felt very honored to became member of the Korea Calligraph Association. My artworks were shown in several exhibitions in Korea and Germany and I received an award as a participant of World Calligraphy Biennale in Jeoallabuk/Republic of Korea 2017.