Bonnie Canning 康宝宁 Kāng Băo Níng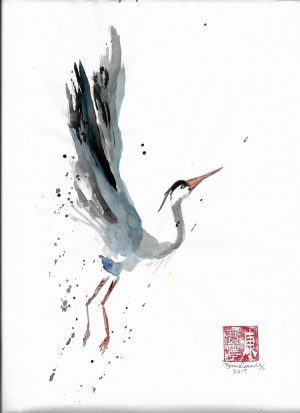 Origin Story: Ever since I remember, I have had a fascination with foreign countries and cultures. I'd study maps and read library books for hours. My favorite was always China. I began drawing and painting as a little girl, when I discovered that, unlike my sisters, I had absolutely no musical talents. I got my first commission and sold my first painting when I was thirteen. I continued my artistic endeavors throughout high school, where I won the contests every year to design the covers for my high school's bi-annual literary magazine, was president of the Art Club, and sold portraits of my classmates to their adoring parents.
Thinking that I wanted to make art my career, I began college as an art major. However, my fascination with all things Chinese soon led me to change majors and schools. I was the first undergraduate to receive a degree from the George Washington University's Sino-Soviet Institute in Chinese Language and Studies. During this time, I pursued my interest in Chinese culture by studying Chinese language, history, philosophies, political science and economics.
After receiving a master's degree in Information Science from the University of Maryland, I went on to a corporate management career, but kept alive my passion for Chinese culture by constant reading.
After my retirement in 2000, I returned to my interest in Chinese art. I studied in St. Louis, Missouri with Chinese artist, calligrapher, and art therapist in a program called "Meditating With a Chinese Brush." A passionate interest in Buddhism and Taoism broadened my artistic awareness.
After moving from St. Louis to Florida in 2005, I began to concentrate on Chinese painting techniques. Having no teacher to guide me here, I turned to the paintings of ancient and modern masters for my inspiration, collecting and studying over 100 books on Chinese painting techniques, many only published in Chinese. My favorite book is, of course, "The Mustard Seed Garden Manual Of Painting."
Since January 2014, I have been teaching Chinese painting to enthusiastic amateur artists. I try to imbue in them the philosophy that Chinese painting is an expression of your heart and spirit ("chi"), and that there is no "right" or "wrong" way to paint. Mastering the traditional brush strokes as well as the brush, just gives us the "letters" and "words" we need to visually express our feelings and spirit. Chinese painting, to me, is truly from the heart.
Techniques: I paint in the Chinese "Xie Yi" style, also call the "Spontaneous Style" in English.
Art For Sale: I sell 5×7" note cards printed from 52 of my original works. I currently only sell them locally. I would consider selling them online if I had a vehicle to do so.
Teaching: Teaching Chinese painting is my passion. I currently teach classes weekly. I have 59 enrolled students, but not all of them come to class every week ~ thank goodness! Many of my students live in other cities and countries. I even have a student in China! I distribute my lessons every week via email, and provide links to other artists' YouTube videos for whatever subject we are currently painting. We mainly study and practice the "Birds & Flowers" genre in the Xie Yi style. For many months I have been teaching birds ~ song birds, wading birds, barnyard birds, swimming birds and predatory birds. After that, we will go on to fish ~ goldfish, koi, and carp. We also learn various flowers ~ lotus are my favorite! The classes go year-round. I also like to paint landscapes, but only teach that genre to a few advanced students. As far as I know, I am the only teacher of Chinese painting within a 100-mile+ radius of my area.
Send Message to listing owner
Please
log in
to be able to send messages to the listing owner.