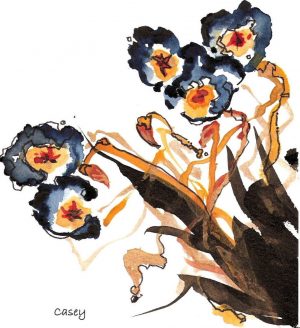 Art as Healing
My artistic journey began, like many artists, in grammar school and continued through high school. I seemed to be happiest and closest to my spirit with pen and brush in my hand. After graduating high school, I found myself enrolled in Chouinard Art Institute in downtown Los Angeles, which is now California Institute of the Arts in Valencia, CA. In Art College, I bloomed as an artist learning techniques and then learning to break all the rules, eventually beginning to develop my own style.
I graduated with a Bachelor of Fine Art (BFA) degree. I was a fashion designer in the garment district in downtown LA for a short while. I even owned and operated a small boutique in North Hollywood. I soon realized this was not the career for me. I returned to college and went to California State University, Los Angeles and earned my Teaching Credential. I taught art in public high school in Santa Ana for over 10 years. I had found my calling. My teaching specialty was drawing and painting. Students enjoyed my art classes and frequently won local art contests. During this time, I was a free-lance artist exhibiting and selling my artwork locally along the Southern California coast.
You never really know what life has in store for you. Several years ago, I encountered an event that would change my life forever. I experienced a massive left hemisphere brain-stem stroke four days after my 36th birthday. In an instant, I was paralyzed. I could not breathe, speak, walk, and I lost the use of my dominant right hand. Needless to explain, this was very devastating and the prognosis for my recovery was bleak. I worked very hard in rehabilitation (years actually) and slowly learned to talk again and walk as well, eventually obtaining added assistance with my licensed service dog, Gabe.
However, I did not recover the use of my dominant right arm and hand. So, I taught myself to draw with my left hand and used this activity and my drawings as an integral part of my stroke recovery. As soon as I could sit up in a wheel chair, I began drawing with a vengeance. I just intuitively knew art would save my life. There is something about the creative process that is absolute healing. I knew this deep inside myself and worked toward recovery with art as healing.
I eventually recovered enough to head back to college attending California State University, Long Beach. I earned a Master of Science (MS) in Counseling and shortly after graduation moved to Santa Cruz, CA., where I began teaching and counseling at Cabrillo College in Aptos. Twenty-seven years later, I am still teaching at Cabrillo College and loving every minute of it. However, I no longer live in Santa Cruz. I have moved to the beautiful and majestic Carmel Valley and spend half the year in Oregon.
Carmel Valley is a magical place and is very inspiring to the artist's eye. I have been so at peace here nestled under the Oak Trees. I enjoy watching the many Carmel Valley critters and birds in their daily activities. There is a time of day, just at dusk, when the Valley Mountains turn shades of purple colors that are unbelievably spectacular. Carmel Valley is a perfect spot for any artist to live and create. Hence, the creation and development of the Casey Shannon Studio was conceived.
I am a contemporary Sumi-e artist reaching beyond the limits of traditional ink painting and creating the 'sound of one hand'. My paintings one would not generally call traditional sumi-e. However, I adhere to the traditional sumi-e principles and philosophies, as well as, the traditional artist mind preparation before beginning a sumi-e painting. Sumi-e expresses the character and soul of the artist. It is a meditative process and spiritually personal. Understanding this concept has been at the center of my art.
My professional organizations include: Sumi Society of America (active member), Carmel Valley Art Association (featured artist), Oregon Society of Artists (featured artist), and a member of the elite Seal Carving Gyoku-seki Society in China.
I was asked by Master Sumi Painter Ransui Yakata of Tokyo, Japan to become the Director of The North America Branch of  ICCPS – International Calligraphy and Ink Painting Society. This is a global society dedicated to the ancient art of sumi (ink). I have held this position since 2010. 'The Soul of Nature' is my inspiration for my art. My medium is sumi (ink) and Japanese/Chinese watercolor on Xuan.
Techniques: I am a non-traditional contemporary sumi-e artist
Art for Sale: On my website – http://www.caseyshannon.com/ – original paintings
At Fine Art America - https://casey-shannon.pixels.com/ - prints and cards
Teaching: I am not teaching sumi-e at this present time
Send Message to listing owner
Please
log in
to be able to send messages to the listing owner.