Eric Marié 馬業宜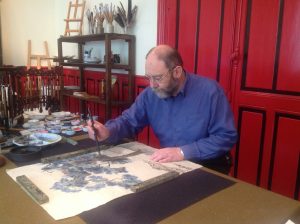 Eric Marié pratique depuis plus de trente ans la peinture et la calligraphie chinoises. Il a été formé entièrement en Chine populaire et à Taiwan, auprès de plusieurs maîtres qui lui ont permis d'acquérir une connaissance théorique et une expérience pratique étendue des instruments, des matériaux, des techniques, des styles et de la philosophie de ces arts. Ses œuvres ont été régulièrement exposées, y compris en Chine.
D'autre part, son parcours universitaire (il est titulaire de deux doctorats, un en Chine, l'autre en France) l'a conduit à explorer de multiples aspects de la culture chinoise. Professeur à l'université de médecine chinoise du Jiangxi à partir de 1992, il a ensuite enseigné dans une dizaine d'universités au cours des vingt dernières années (Europe, Chine, Taiwan, Corée…).
Éric MARIÉ transmet ses connaissances et son savoir-faire d'une manière simple et vivante mais avec une rigueur qui favorise l'exactitude et l'efficacité des gestes et des techniques.
Send Message to listing owner
Please
log in
to be able to send messages to the listing owner.