Franck Rollier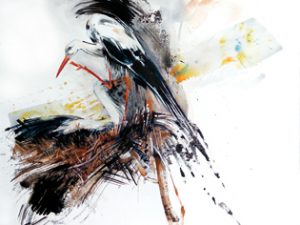 I would say a quite weird origin is that I completely don't know why I love to paint like I do,except that  it's my natural way of  thinking paintings.
When I try to understand further, I picture those first mangas arrived in europe in the eighties when I was a kid, that were a completely new design and narration.
I realize that I could found in those mangas the basis of my aesthetic preference, and the first step to appreciate the masters as Hiroshige for instance. But also the masters of post-impressionism such as Van Gogh, also great fan of Hiroshige.
I also discovered in that period, my elder  brother's box of ink and materials, and started to paint with….and never stopped since then !
So I went my proper way, tried many other forms of painting to come back to my natural taste for ink about in 2000.
By then, I discovered the magnificient chineese art history, painters of south Song dynasty for example, Shitao, Lee cheng etc…
Techniques: I love ink, I can't make it without. I often mix it with watercolors, sometimes acrylique.
The only advice i could tell is : try everything, any tools classic or not, any papers and canvases, and every mixing technics you can imagine…one day you'll find yours !
Art for Sale: I usually sell my work in salons and festivals in Europe. I also have a website where you can contact me and ask for disponibilities of works.
Teaching: I frequently organise workshops in my studio or in different festivals. The complete list is on the website.
I also organize sometimes workshops for friends, next will be in my studio of Lyon with the spanish aquarellist Cesc Farré from Barcelona, on the 18th and 19th of November.
For any query you may have, please feel free to contact me at any time! 😉
Send Message to listing owner
Please
log in
to be able to send messages to the listing owner.