Jekaterina Belajeva 白凯夏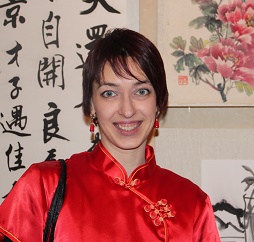 History: I am artist, illustrator, teacher of arts for children and adults. I felt in love with Chinese painting ~10-12 years ago when I tried to found the best art-therapy technique for pregnant women group in mom's club. I found that Chinese shuimo 水墨 and Japanese sumi-e  styles are exellent to relax future moms and all people around! We was painting, enjoying water and ink play, we were using breath and body – it was amasing result for my group! I was so interested that started to study Chinese visual arts and found them very beautiful, symbolic, with deep phylosophy and history. From that time I studies a lot by myself, read books and watch videolessons, started to stydy Chinese to understand more and read Chinese books about arts. After I found the teacher – Yulia Naumova, the best teacher in Moscow, Russia. In 2015 year I practiced my scills in China, Hunan University and took 2 diploma's which confirm my good level in guohua and calligraphy. I made the only official Chinese painting and calligraphy studio in Latvia, Riga town and licensed my teaching programm in Latvian Ministry of education. My studio name is "Lidojošā ota', it is "Flying brush", 飞笔 in English. In my studio also we have Chinese language teacher, calligraphy teacher, seal carver, mounting specialist. We make high level exhibitions 2-3 times per year in most prestige places in Riga.
My favourite techniques: xieyi birds-flowers 写意 花鸟, gongbi 工笔, mogufa 沒骨法
I can sell my artworks, I accept commisions.
I teach xieyi birds-flowers 写意 花鸟, gongbi 工笔, mogufa 沒骨法
Send Message to listing owner
Please
log in
to be able to send messages to the listing owner.