Joanna Brown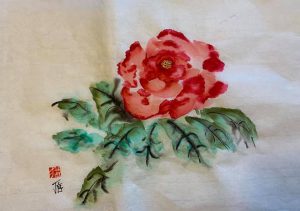 My name is Joanna Brown. I do not have a Chinese name.
I live and work in South Shields, which is situated on the North East coast of England about 9 miles from the city of Newcastle -upon – Tyne.
I prefer to be contacted by email.
Origin Story: I am a self taught Chinese ink painter. I fell in love with the medium a few years ago, after my brother, who lived and worked in China, returned back to England with a precious gift for me: Chinese papers; brushes and inks. From the first moment I painted I was captivated. As I learnt more about the medium, I went on to purchase an inkstone; seal paste and a soap stone, on which I carved my own, unique signature stamp. I love the way Chinese painting evokes emotion, freedom and thought.
Techniques: My favourite techniques are to use the tip of the brush and to load the brush with a few colours and twist while applying the paint. I also like to blend back the inks on the paper to give a subtle effect.
Art Work to sell: I do sell my art work. Contact me directly to purchase my work or commission me to paint.
Teaching Information: I am a qualified teacher and counsellor. I have demonstrated and taught Chinese Ink painting to The University of the Third Age art group in South Shields. I currently run ArtFlow, where I teach children art in a relaxing environment.
Send Message to listing owner
Please
log in
to be able to send messages to the listing owner.