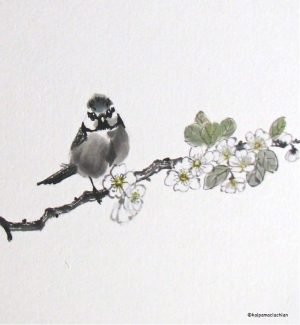 From my very childhood I love to draw and paint and from there the desire grew to make painting my profession. I was accepted at the Academy of Fine Arts in Groningen, a city in the North of Holland. During my education I preferred to work with watercolour and ink in a direct and spontaneous way, still I was looking for the materials I could express myself the best.
After graduating I came across a Japanese artist who showed how to work on rice paper, to see the brushstrokes dancing on this very absorbent kind of paper I fell in love with the Eastern Art of Ink painting.
To learn the technique I found my teacher in the Chinese artist Tian Wei, a professor of Chinese Art at the University of Zhengzhou China.
For 25 years now I am a Sumi-e teacher myself.
Painting techniques: My favourite technique is Xie Yi, the spontaneous way of ink painting.
Art works for sale: As a professional artist I sell my paintings, see my website
Teaching information: I give workshops Sumi-e in my area, for contact see my website.
Send Message to listing owner
Please
log in
to be able to send messages to the listing owner.