Kate Steenhauer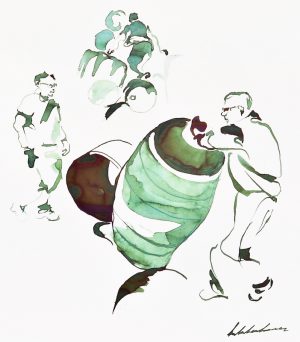 This amazing summer at Opera Holland Park I followed acclaimed conductor Matthew Waldren alongside City of London Sinfonia during rehearsals for a Puccini production. The fluidity of the environment inspired me to draw with ink using a calligraphy nib. This bottled Japanese ink manufactured for writing has many problems including the interaction with western paper. In short, optimum effects and results were left something to be desired.
This resulted into research into the best available ink, which then carried me into the ranges and depths of Chinese and Japanese art. I got hooked on the thoughts of the transformation potential of my artistic practice by learning and integrating the fundaments of this fascinating ancient art form. So now I am experimenting with the so-called Four Treasures of the Study. I am excited to learn as much as possible.
Techniques – See my drawing in action via https://www.youtube.com/watch?v=3bOsF2SRMiQ
I am not necessarily interested in imitating the traditional way and subjects of Chinese painting. My vision is to apply the techniques to my own subject, integrate and develop them into my own personal style. To see some examples, please see attacved news article about my current solo show focussed on the Whisky industry, and my website (or attached images) for other subjects such as my Opera Holland Park project, a livestock auction and of coopers at work on their whisky casks. http://www.katesteenhauer.com/section845318_724436.html .
Art for Sale – Yes my work is for sale, http://www.katesteenhauer.com/
Send Message to listing owner
Please
log in
to be able to send messages to the listing owner.