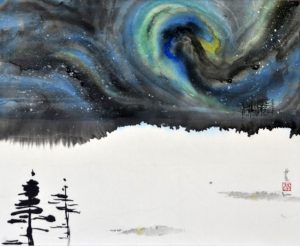 Art for Sale: Yes I sell my artwork, contact me by sending me a message or visit my website.
Teaching: I do not teach, yet I do accept commissions.
I am a visual artist whose art merges techniques from Chinese Brush Painting and North American acrylics to create works that are representative of the differences and similarities between Eastern and Western art.
I have exhibited in Ontario and Internationally. I've studied Chinese Brush Painting under Masters Baoxing ZHANG, Hiroshi YAMAMOTO and William HO, and abstract acrylics under Mark Cope and Halina Wyluda-Kazmierczak.
My intent is for inks and acrylics to create scenes of balance and harmony.  Each brush stroke is deliberate, from the tiniest of marks to the largest of strokes.   I start painting a general idea and allow the ink or acrylics to flow as my imagination permits.  My works have be called ethereal, soothing, surreal and mysterious; they represent a journey of my mind.
During my recent exhibitions in China, my objectives as an artist were kindly expressed by Shuhua CONG, Artist and Chinese Antiquities Collector "This art piece [Dancing Skies #3] is a dream-like scroll; Here, the Eastern and Western cultures collide, creating a masterclass that weaves imagination, fantasy, and reality. This piece combines and encapsulates the colours from the west and the brush-painting style of the east, creating a piece that is appreciated by audiences across the world. It is an experiment and an innovation, providing comfort, enlightenment, and recollection. I wish foreign artists can continue on this journey of artistic exploration."
Her comment sums up why I make the art the way I do:  it is what happens when art is the tool to create mutual respect and appreciation between people of different cultures.
My art practice empowers me to gather information, digest it and turn it into wisdom.
Send Message to listing owner
Please
log in
to be able to send messages to the listing owner.