Mo Feisheng 墨蜚聲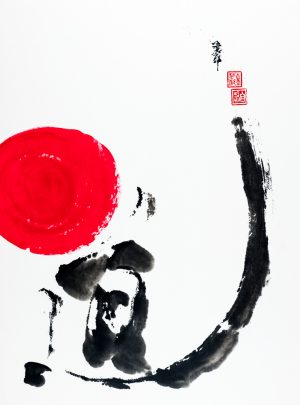 Name: Meredith McPherson
Artistic/studio name (given to me by master calligrapher Liang Zongheng) is Mo Feisheng 墨蜚聲
While I was working at the Smithsonian Institution in Washington D.C., I asked Professor I-Hsiung Ju, (who lived at that time in Lexington, Virginia), to teach me brushed ink bamboo. He told me to go study Chinese calligraphy for five years and then he would teach me bamboo. I did and he did. Professor Ju took me to China in the mid-1990s and introduced me to Master Liang Zongheng who told me through an interpreter, "You are standing on the threshold of Chinese calligraphy, and I'm here to help you through the door." I left my job at the Smithsonian and moved to Nanjing, China to apprentice with Master Liang. I have been devoted to the study of ancient Chinese characters ever since then.
Techniques: Brushed ink on xuan paper. Happy to share tips if asked.
Art for Sale: Yes, I sell my artwork. I am represented by a gallery in Albuquerque, NM. People can view representations of my recent artworks on Facebook under my name Meredith McPherson. They can also visit my website which truthfully I don't keep up to date.
Teaching: Yes, I teach calligraphy.
Send Message to listing owner
Please
log in
to be able to send messages to the listing owner.