Patricia Larkin Green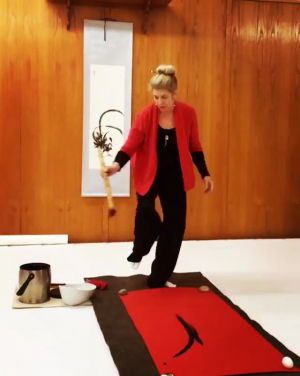 "As in life, if you make a mistake, you must go on, you cannot cover it up. The sumi-e tradition of Asian ink painting from teacher to student moves in a continuum, with no end to the journey for truth. In sumi-e, the brush reveals your truth. The process is important. " I studied with International Zen Master Sato Sensei in the Den sho (伝承) tradition (Hand to hand) while meditating on lessons from the Rinzai Zen philosophy. I am honored to pass on this tradition."
A turning point for me was learning to paint Sumi-e, (East Asian ink wash painting), where my goal is to capture the soul of the subject. When I paint a flower I am freed from reproduction and inspired to convey its movement and fragrance. Less is more.
When painting with ink, a single stroke can produce astonishing variations in tonality, from Frans Hals' black to silvery Wyeth gray. Every brush-touch must be full-charged with meaning, with useless detail eliminated.
When I paint my intent is to let each mark of my brush meet the canvas as an extension of my state of mind.
The emphasis is on the process! The Class will be introduced to the "Four Treasures" (The ink stick, the ink stone, brush and paper) and each class will begin with a demonstration then guided instruction on how to paint "The Four Gentlemen" (The lessons introduce the student to the four basic strokes groups). Advanced Students work at their own pace discovering "idea" paintings.
Send Message to listing owner
Please
log in
to be able to send messages to the listing owner.