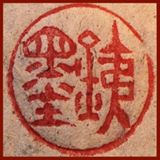 RAGGEDYBIRD.com
Being an Animation Engineer  (www.iClonia.com) time is not on your side.
Recently I created an animation called "The Chinese Garden" and it was created from an old 2200 year old Qin dynasty ink drawing.
Two years four months later and very much communication with several Chinese Universities, the animation appeared to the world for 6 minutes output.
Getting away from modernity was wonderfully achieved by taking up the Chinese Arts.
I started RaggedyBird in 2004 and RaggedyDragon next. Here I learned about and started to teach the very basic principles of Chinese Artistry and I am lucky..... I have never ever painted western style OR used western materials either.
So I pride myself in having had an unpolluted education in The Chinese Traditional Arts.
Recently I discovered Inkston... from here I not only achieved the purchase of triple weight xuen paper but also my "Dream Inkstone". A simple Water buffalo, up to his knees in ink on a simple understated ink-stone rock. Nothing more. Just a flat surface, with a Waterbuffalo that would appear to wade in the made ink. 12 years I had searched for this.
I used to learn by example from Yang O-shi, a very famous Chinese Artist with many published works on teaching the Chinese bird and flower paintings.
I created over 270 Timelapse Videos of my learning and posted them on YouTube.  8 years later Yang O-shi wrote to me thanking me for promoting her work to the western world and she sent me two CD's. One on her Bird Painting and one on Flower painting.
Remember, I had never seen her hands paint before. No idea of the actual size of the bird, angle of the brush, etc etc. I simply saw the pictures and tried to copy. So, suddenly to see her hand and the proportions and angles.... it was superb.
Leaning further into Chinese Traditional Art I then discovered the Lingnan Style. Chao Shao-an and his work absolutely inspired me and I wanted to do this. Difficult, very difficult to get that casual vision to the birds.... but two years now I have studied daily almost, and I feel I start to walk closer to where I want my art to be.
In 2004 the number of "good" suppliers to the Chinese Artist was limited. Limited because unless you went to China, the range of available materials was less than 5% of what you find in any Chinese Art store nowadays.
Today, we have many suppliers all screaming to sell us everything our heart desires but we have to be careful. Prices can vary and in truth, as an Old Master once told me, "A brush leaves the mark it makes. There is no such thing as a good or bad brush. Will it do what you wish of it...... or not. "
Inkston have appeared and so far they have been incredibly honourable in both supply range and cost effectiveness.
I buy almost solely from them now. I must admit, I am pretty well stocked up now but paper I can always buy. Ultimately I will run out. Inkston offer a superb range of papers and at prices that appeal.
This is where I can sit down on triple weight Xuen and watch those wonderful inks and colours seep into the fibres and give me wonderful control.
RAGGEDYBIRD.COM came about because my Students needed a one stop shop that sold EVERYTHING.
Ebay was a bit limited in 204, and art stores in Chinese Arts were few and costly.
I opened RaggedyBird.com as a one stop solution selling everything from Lucky Cicada ink sticks to gold flecked papers. It was expensive because I had to double charge shipping fees but it worked. And still does.
Customers are Global.
If I see a trinket on Ebay I buy it and put it in the store. Someone will fall in love with it and buy it.
That's how the Chinese Treasures come to be for the West here.
I would say less than 1% of the Western Artists are aware of what Chinese Art involves.
RaggedyBird.com also KEEPS LISTING as "dead items" the things it has sold so that people can come and see examples of "What was".
In this way the store also becomes an education resource.
I take a little pride in this because nobody else does this world wide and Chinese Art Materials vary incredibly.
My Style = Chao Shao-an by example for now.
My Preferences = Inkston's triple weight papers, coloured and fibrous, leaves in the fibres and flowers, texture, coarse and smooth papers.... all of which Inkston have been able to suplpy.
My brushes = Like Chao Shao-an, Wild Horse Hair.  From the manes and tails of the horses that live at the top of the mountains and have the densest hair and the harshest fibres.
My Ink Stone = inkston supplied simple waterbuffalo on an understated rock table. 14 inches across. (You can see it on Inkstones opening banner at the page top)
My Seal Stone = From a design over 2000 years old adopted by myself for its beauty.
My Water = I use brook water running down from the Scottish Mountains. We have four brooks and a large river on our land in Scotland.
My paperweights = Carved from 3000 year old Chinese fossilized Bogwood.
My Brush Hanger = Created by a craftsman in China from 100% Buffalo Horn.
My Paints = Maries. Always Maries. And wether some are fake or not, they all blend really well with the ink soot I use.
My Ink Sticks = From Old Huishi Hu, Kaiwen. Purchased in 2005 and created  2 x 1950 and 1 x 1972.
My Master = By example - Chao Shao-an. www.ChaoShaoAn.com
This is what I do, how it all came to be and what I do now and how I have progressed.
Thankyou for reading.
Neil Birley-Armstrong.
Send Message to listing owner
Please
log in
to be able to send messages to the listing owner.