René Böll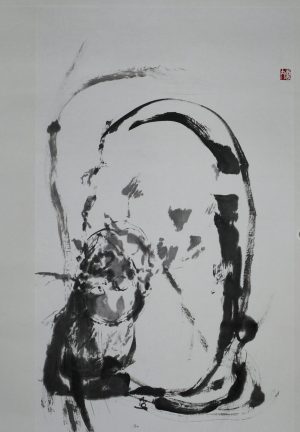 My Chinese name is Binghu Shanren.
My studio name is : the studio in the old harbor and also studio at the icelake.
I was about 20 years old around 1968 I saw Chinese and Japanese painting from the Sung and Ming dynasty painting in old German books from the 20ies. Also the reproductions weren't very good I was a revalation for me.
Paintings from 文人畫 wén​rénhuà and immidiatly iI was fascinated by this incredible modern painting, also painters like BADA SHANREN, LUO Ping, Shi Tao, the specially in Japan well known 牧溪法常; pinyin: Mu-ch'i Fa-ch'ang and many others, also by calligraphy – antique and modern. I wanted to learn this, tried to get the material, impossible in this times in Germany.
Many years later I got the material from Chinese friends, the four treasures, and since this I like to paint with Chinese ink, highly influenced by Chan (chinesisch 禪, Pinyin Chán) and last year I tried to achieve triple championship (ink Painting, calligraphy and my own poetry).
Since the late 80ies a work together with Gu Gan 古干 and I made many paintings together with him.
Techniques – My favorite technique is modern calligraphy brush work
Art for Sale – I sell my work, people can email me and I send the photos.
Teaching – I can teach, but only painters interested in modern techniques.
Send Message to listing owner
Please
log in
to be able to send messages to the listing owner.