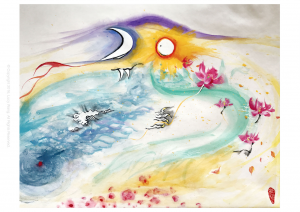 Chinese ink painting and calligraphy has been a practice of mine since five years of age. Remembering when I was young, my grandfather used to practice calligraphy in his spare time and I would help him with grinding the ink stick on ink stone and practice my own on the side. He was a practitioner of 隶书 (Clerical script) and we would always 'frame' the best pieces under the glass table tops. Grandfather's study room stored all the calligraphy works, as well as a large collection of ancient and modern history books.  After arriving in Sydney in the late 90s, I slowly integrated into the Western culture and society, thus rarely picked up my brushes. But it was until my early 20s, my encounter with Buddhist meditation and the sad passing of my grandfather, motivated me to continue this tradition again and teaching myself seal engraving, using the precious brushes and seal stones that grandfather has passed down.
Today, my oriental art practice is both a personal expression and dedication to those who have mentored and inspired my art practice. A lot of my brush paintings depicts the auspicious Chinese dragon, as a representation of my zodiac and my ancestry as a 'Descendant of the Dragon', and I do enjoy reading ancient scriptures such as iChing, Daodejing, Shanhaijing and buddhist sutras to draw more inspirations from.
Techniques: My paintings are usually a combination of gongbi and xieyi aesthetics, and my must use brushes includes yejing, beiyan, lanzhu, baiyun etc.
Art for Sale: Yes, some of my works are exhibited and sold inside galleries or auctions across Australia.
Teaching: Yes, I'm available to teach students who are interested in learning a more freestyle form of Chinese brush painting that are more expressive and experimental, that I've developed over the years. However, I'm still experimenting with my style and techniques.
Phone: +61 402 395 783
Send Message to listing owner
Please
log in
to be able to send messages to the listing owner.