Tereza Mitry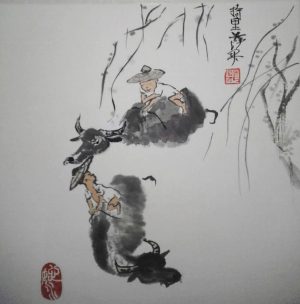 My love for Chinese Brush painting started in the States. I briefly studied Asian art in college and that is where I first saw a Chinese painting. I loved it and felt at peace as I stared at it. I was mesmerized by the movement and harmony in the painting and thought I had to learn this art style. Then, life happened and my passion was set aside but always in the back of my mind.
After traveling back to Egypt, my focus was mainly trying to adapt to a country that was very foreign to me.  After the passing of my mother, I felt I lost a part of me and I was not the same. Slowly, I started to regain myself and my drive. Then 2 years ago I met my partner and soul mate who is a very talented musician. He pulled me out of a dark place with his energy, passion and love. I saw how motivated, intense and relentless he was with his art and it sparked something in me. I wanted that too! You could say he was my muse lol. I was very lucky because my family and friends were very supportive with my goals and my new addiction to Chinese brush painting.
After that moment, I started religiously watching you tube videos of Chinese brush painting. I had no tools or a teacher. This style of art does not exist here in Egypt so I had to teach myself. Luckily I had a friend from the UK who travels to Sharm often. I asked for her help and April last year I received my first Chinese brush, ink and paper. Slowly, I started to collect more supplies, ink, paints , paper and brushes. I joined every group related to CBP and asked for help from anyone. An artist by the name of Virginia Lloyd Davies was very generous and advised me a lot. Some of my paintings are inspired by her. The CBP communities were all really kind I found and I fell in love with this art even more. My dream is to one day open a center here in Egypt that caters for Chinese brush painting.
Techniques – what are your favorite techniques? can you share any tips?
That is a hard question because I love everything about CBP and all the techniques! However , if I had to choose then it would be loading the brush with various colors or ink and watching them spread on paper like butter lol nothing brings me more satisfaction. My only tip is to practice, practice and practice and have fun!
Art for Sale – do you sell artwork, how could people find and order your work?
Yes, through my website or facebook page
Teaching – do you teach or can you recommend any classes or courses in your area?
I don't teach yet but I may in the future- There are no courses or classes in Egypt as this style sadly does not exist here and my goal is to try to change that.
Send Message to listing owner
Please
log in
to be able to send messages to the listing owner.