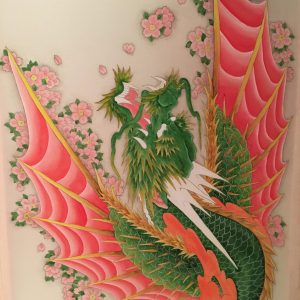 I was always fascinated by paintings on silk and the level of detail that can be achieved on it while still using traditional techniques. Seeing as how painting on silk in general is so rare, it only intrigued me more. I started to learn how to paint with fine line in High school on sized xuan paper and that's where I also learned to mount my own works. Now, my favorite medium to use is silk. Specifically, Japanese silk. I love the way the colors and ink show, with silk, I'm able to create a soft background while being able to load ink into certain areas without having to worry about ripping paper. My main subject matter is usually more Japanese based as well.
Not only do I paint, I also mount every one of my works traditionally using wheat starch paste.
Techniques: ink and mineral colors on silk.
Art for Sale: I do sell my paintings (usually mounted in a standard Japanese scroll format) and I also take on commissions from time to time depending on my school schedule.
Teaching: As I'm still a college student, I've never taught anyone to paint using silk before. although I would be open to it :)
Send Message to listing owner
Please
log in
to be able to send messages to the listing owner.