Virginia Lloyd-Davies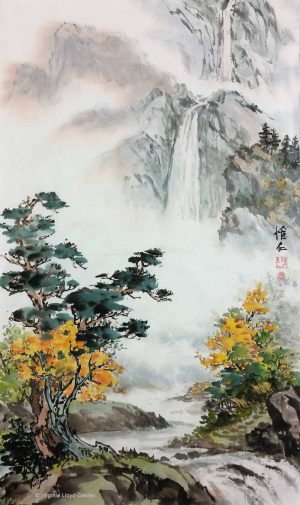 Name: Virginia Lloyd-Davies, Joyful Brush® (that's my trademarked business name). My Chinese name is Wei Jen (see my paintings for the Mandarin characters)
In 1976 I enrolled in a Chinese Brush Painting workshop in Manhattan. Faced with the immediacy of just brush, black ink and rice paper, it was love at first stroke. This was fortunate since my enthusiasm kept me working at it even though my first efforts were like any beginner's – weak, uncontrolled squiggles interspersed with heavy splotches of black ink.
Techniques: Letting the brush dance is the secret! Of course, you have to practice the steps of any dance in order to become proficient, so practice, practice, practice! I also recommend gentle judging. It's too easy to criticize one's own efforts and then to lose heart. Chances are, we all get a bit better with every practice session, so we should add perseverance to the practice mantra.
Art for Sale: My artwork is for sale on my website
Teaching: I do some teaching. If someone is interested, they should contact me through my website to find out if I have workshops planned.
Send Message to listing owner
Please
log in
to be able to send messages to the listing owner.