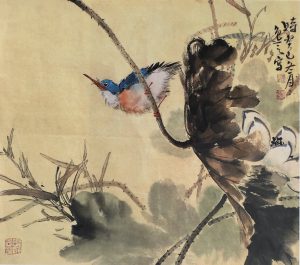 从小就爱画画,但一开始父辈没有这种意识,我也没有上过专门的艺术学校,都是自学。兴趣是最好的老师,我这样坚持了三十多年。基本上能者为师,向古人学,向书本学,向朋友学。这个与油画不一样,需要专门的培训。中国画,写意画,是老师教不出来的。因为老师没有办法把他的生活经历教给你,每个人的生活历练都不一样的,画出来的意境也不一样。油画可以复制,临摹;但是中国画不可以的,当时的心境、状况都不一样的,同一个人画的画也不一样。这也是中国画特殊的地方。中国画要在特殊的状况下一气呵成,只能作加法,不能作减法。油画如果出错可以之后修改,但中国画不可以的。
I loved painting when I was little. At that time, my parents were not aware of importance to cultivate children's hobbies. I didn't go to any special art school. I learned all on my own. Interest is the best teacher. I kept teaching myself for over 30 years. Generally, whoever is better than me, they are my teachers. I learn from artists in Chinese history, from books, from friends, etc. Chinese painting is not like oil painting in west, which need special trainings. Chinese painting, especially XieYi Chinese painting, can not be taught at school because these paintings are based on your life experience. Teacher cannot teach you life experience since everyone has different life experiences. Different life experiences lead to different paintings. Oil paintings can be copied while Chinese paintings cannot. Even the same people cannot repeat the same painting because his mindset and circumstances at that moment have changed. This is the unique place about Chinese painting. Chinese painting has to be done without any stop, and you can not reduce but add. Oil painting can tolerate errors, but Chinese painting cannot.
Art for Sale: Yes, please send me an email.
Teaching: Yes, I teach. Please send me an email.
For more information about Wang Hui, please refer to the interview by inkston.
Send Message to listing owner
Please
log in
to be able to send messages to the listing owner.