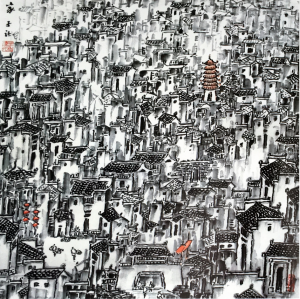 Wang Zirang is a member of China Artists Association, Chinese Painting Research Association, Modern Chinese Painting and Calligraphy Association, Xin'An Calligraphers Association and president of Huang Binhong Painting Institute. Shexian, includes old Huizhou, near Huangshan (Yellow Mountain) in Anhui province which has long been recognised as one of the most important centres for Chinese painting, as well as home also to Old Hu Kai Wen Ink workshop and traditional inkstone workshop.
The beautiful city of Huizhou has been home to a lot of intellectuals and many famous painters in Chinese history. Wang Zirang was born here into a business family more than 60 years ago. With such an influence,  he became interested in Chinese calligraphy and paintings at very young age.  While working in local government, he spent any spare time available continuing to paint, exhibited in national art exhibitions with representative works such as "Huizhou impression", "Longchuan", "MaoMeng hometown" securing his membership of the China Artists Association.
Techniques – Su ink, Huang Binhong style. Please read my interview where I talked about some painting skills.
Art for Sale – I sell my work, people can email me.
Send Message to listing owner
Please
log in
to be able to send messages to the listing owner.