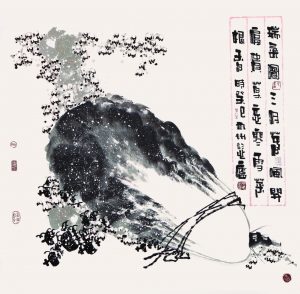 I value independence most. I hope after I die, my artworks can continue my life for me.
When I was little, my family was very poor. I loved doodling on paper. After over 30 years doodling, I feel it is more and more difficult to express the special painting you want. My families and friends always say that my hard work is finally paying off because the paintings are sold at good prices. In these years, I have published many books, hosted many exhibitions. I left my hometown and traveled to Beijing. I became a member of leading Chinese art associations. I got fame.
However in fact, I am just an ordinary person. I experienced the worst time when I lived in poverty, when I had to travel for making a living. However, it doesn't matter what happened, all would be good in the end.
What is 'Art'? Many people do not care about the answer to this question any longer. Money has corrupted the art world. The art community is like a circus. I think there should be an end to everything. Arts need to be judged seriously. Anything except art is vain. An artist will be judged only by his artworks.
In the long long art river, I am serving as a water drop. I have always been trying to to make some waves however tiny. Once you understand my paintings, you will understand my heart. I want to devote my pure heart to people who love me and who I love.
Artist Profile:
Zhang JiuZhou, born in 1972 in He Nan province of China, resides in Beijing and Guangdong. He is a member of many leading Chinese art associations including China National Academy of Painting (CNAP).
Art for sell: Yes, please send a message to me.
Send Message to listing owner
Please
log in
to be able to send messages to the listing owner.