A Sumi-E Artist María Papp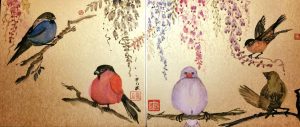 María Papp is an educator, a linguist, and a Sumi'e artist. She studied art at The Institute Of FineArts in Buenos Aires, Argentina, her place of birth. Learned the classical academy tradition at the age of 9, and later on, she continue in a variety of other mediums. 
Maria pursued her learning interest in East Asian Brush Painting in the United States, her curiosity on this style was motivated by the process of paper folding -Origami- at the age of three, while attending kindergarten at a Montessori School. 
For a time, she had an uneducated tendency to copy Chinese calligraphy, in her own way. Today the rules and steps to write calligraphy or to write a painting are very well imbued in the spiritual development of the artist. 
Maria identified herself with the Asian concept of ink brush painting more than 30 years ago under the guidance of national and international artists, including  Henry Wo Yue- Kee, Dong Feng Li, Japanese Sensei Shozo Sato and Zhuo He Jun of Zhejiang Academy, China. 
She attended workshops in Japan, and in 2001 furthering her studies, she joined a group of artists at theTianjin Art College in Tianjin, China,under Jia-Baomin, Wang Shuang Cheng and Guo Shuren guidance.
During her trips to Japan and China, the artist developed a solid understanding of the culture, history and the people of Asian countries. She knows that the process of learning is an unending journey of serious study and discipline, that practice takes long years, and simplicity requires skill.
"I'm very attached to my work, each of them has a special place in my heart. When I look at my paintings I see imperfections, but I also recognize the beauty, joy and strength that was transformed into an art form".
Her paintings have been exhibited in groups and solo shows, locally, nationally and internationally. Her works have been recognized  with awards in juried shows and housed in private collections.
Maria , at the present, works exclusively with Chinese ink and watercolor on rice paper, silk, ceramics and clay forms.
Member of the: SUMI E SOCIETY OF AMERICA, the ICCPS International Chinese Calligraphy and Ink Painting Society-North American Branch, with exhibits in China, and the International Asian Artists, with exhibits -since 2002- in Tokyo, Kyoto and Osaka, Japan.
Send Message to listing owner
Please
log in
to be able to send messages to the listing owner.