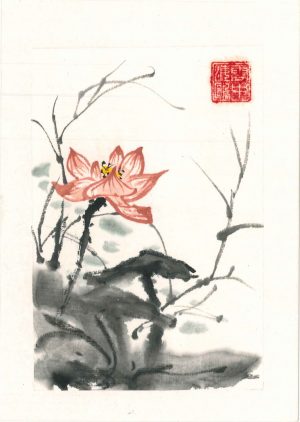 I have always loved the world of ink flow, as well as the world of short poetry. They go together as a brother and sister, or as lovers. I started to learn few year ago, may be slowly, mostly on my own, because it is hard to find a teacher in ink painting in my country. I do small paintings, haigas and gift cards.
This is my story about involvement in Eastern art: 
The first time, when I met haiku poetry and scented its' magic is when I was a child – I found a red pocket haiku book, maybe the first haiku edition in Bulgaria. I kept this mini book for so long. Than it suddenly disappeared, and I am still mourning over it, although I have a haiku shelf in my home library. Back than I was really grabbed, but still I felt so far away from this faraway kind of poetry – and so it went on for some years: I needed to go through much life experience, before I stopped on the "Haiku train station".
The same love story echoed with ink painting. Love at first sight, kept in secret for years on. Than a bright winter star told me, as if – "Don't be shy, express yourself. After all the way of art is the way of the Buddha, that's how it feels like".
Writing poetry and painting has always been inseparable in the Far East. The fusion of arts, their interweaving, adds another dimension to the whole of the feeling, and I particularly like that worldview.   
I am learning mostly on my own, with the help of old and new masters' works of art (trying to copy, or use their theme, line, composition). I go to a calligraphy teacher, also – it's a rarity in Bulgaria.
My techniques: 
My favorite technique is suibokuga, or free style, but I use colors, too. For the time being I am practicing simple themes, but I hope to develop my own style and be more abstract in future.
I sell artwork – sumi-e haiga cards, and small size sumi drawings on public occasions, where I take part with the Bulgarian Haiku union (I am a member). At the moment I am preparing a sell section in my website, and on Etsy:  https://www.etsy.com/shop/LotusSumiArt .
I don't teach (I feel myself as a beginner), but I can recommend my calligraphy teacher and painter in Sofia, Bulgaria – Silvi Velev.
Send Message to listing owner
Please
log in
to be able to send messages to the listing owner.