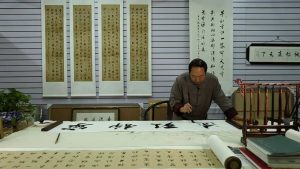 Calligrapher Wang ZhiQi 王志琦 was student of the great modern Chinese calligrapher Qi Gong 启功. He is a member of the leading calligraphy association, China Calligraphers Association. Wang ZhiQi has received numerous awards and was invited to create artwork for former vice-premier of China, Zeng PeiYan 曾培炎. His works are currently collected by top collectors such as Beijing Palace Museum, and Zhongnanhai collection.
President of China Artists Association once commented that "Wang ZhiQi is Qi Gong's only student who is able to embed philosophy in his calligraphy for example: writing regular script in the manner of cursive script, writing cursive script with the feel of regular script."
Wang ZhiQi's calligraphy always contains a painting inside it. Each stroke conveys a perfect art image. All seems so natural. However, we all know that such natural element in art implies years handwork, determination, and talent.
Art for sale: yes. Please send a message to him on this page.
Studio Address: Rong Bao Zhai Gallery 荣宝斋画廊, Liu Li Chang, Beiing
Send Message to listing owner
Please
log in
to be able to send messages to the listing owner.