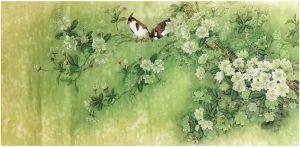 I was 6 when I started painting. It was my father's influence, not my own initiative. When I was six, I was in my first year at school. One day, in my school art class, I drew a horse but when I took it home my father told me it wasn't right, horse's hooves are not like long feet. I then discovered painting was so absorbing, after my father corrected my painting, I realised my father enlightened me rather than any teacher. I was at that time I really started to be very interested in painting.
When I was in my third year at school, there was a drawing teacher in my town. He also teaches Chinese. He is very good at drawing. From this time on, I spent my daytime studying at school, and nighttime learning drawing with this teacher. He taught me about basic drawing skills and knowledge about Chinese painting. Little by little, I became a career of being a professional painter.
Later, I entered high school. At that time, my family is too poor to afford me drawing because the brushes, inks, and papers were not cheap. What could I do? I started to make the most of everything I could get to draw, such as colored pens, pencils, etc. When I grew older and was able to make money, I used all the money I could make on painting materials. I still remember clearly that at that time I would go to a very far shop on bicycle to buy a sheet of Xuan paper. Of course, if I got enough money, I would buy Xuan paper, otherwise, I would buy grass paper – a kind of cheap paper and not as good as Xuan paper, or worse and cheaper papers. In those years, I used up all the paper I could get at home. I drew at any blank places at home.
Read more about Huang Guohong, please visit Inkston's interview with Huang Guohong on Chinese GongBi Detail Painting.
Send Message to listing owner
Please
log in
to be able to send messages to the listing owner.