Premium Mounting Silk *coffee brown 2m by 0.68m
$41.93 (USD)
Feature: This is for mounting purposes and it is thicker than standard mounting silk.
Grade: premium, suitable for professional purposes
Colour: coffee brown
Material: silk
Pattern: traditional Chinese
Width: 68 cm
How to order: Price is for a roll of 2 meters length, which is 200 * 68 cm. We will keep a complete sheet of silk for you.
Recommendation: we recommend you to prepare mounting wool brush for this fine silk.
Brand
Materials
Recommend to
Suitable for
Shipping
Standard
Standard small packet item
Product Size
200 × 68 cm
SKU
ink-PlusH1926-A22-24267
This is the photo of how this silk looks like when it is used for a painting. The photo is taken by Faculty of Restoration of University of Pardubice, Czech Republic.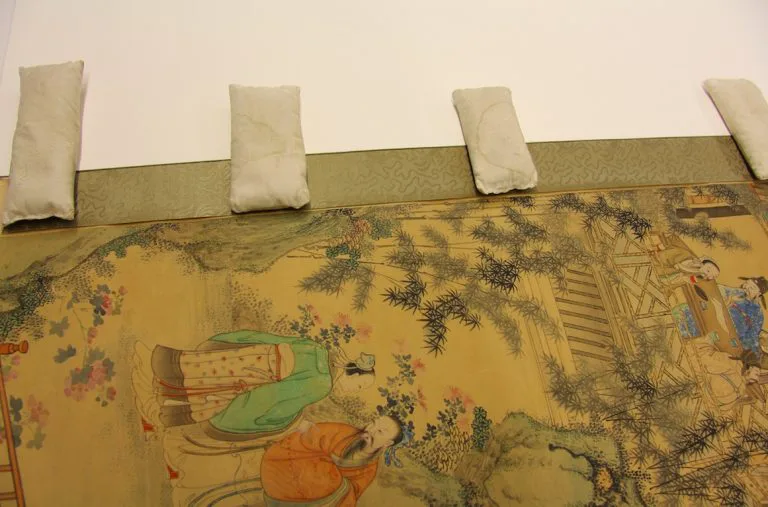 Inkston helped pre-mount this silk on fine handmade mulberry papers. Here are some photos of this hand mounting process. The photos are taken at mounting studio in Hangzhou.
You may also like…
Mounting Paper – Thin 144x76cm

This is thin mounting paper. The size is 144 * 76 cm per sheet while a standard Si Chi (Chinese measurements of Xuan paper size) Xuan paper size is 138 * 69 cm. It is a perfect choice to as the first mounting layer, in between the painting and thicker paper or card, known in chinese as the "painting heart"…

$

1.91 (

USD

)
Brand: inkston
Materials: Cotton, Qing Tan, Rice Straw
Recommend to: Advanced Level, Medium Level, Professionals
Suitable for: Mounting
Product Size: 144 × 76 cm


Mounting Paper – Thin 144x76cm

$

1.91 (

USD

) Add

Mounting Wool Brush

This is a special wide wool brush made from 24 long-pointed wool brushes and used to apply mounting glue. It has very thick fine wool. There are two sizes: M: 18.5 * 15 * 1 cm L: 24.5 * 17.5 * 1.5 cm Special Feature: specially customized wool mounting brush supplied only by Inkston Studio. We are confident that this…

$

24.14 –

$

33.03
Brand: inkston
Materials: Bamboo, Wool
Recommend to: Advanced Level, Medium Level, Professionals
Suitable for: Mounting


Mounting Wool Brush

$

24.14 –

$

33.03 Choose

Wenzhou Pi Paper 皮纸

This is a roll of Mulberry paper 46cm wide and 25m long, this is suitable for painting and calligraphy in its own right and also for use as mounting paper for works on half width Xuan paper (eg 35cm wide, 135 long).

$

19.06 (

USD

)
Brand: inkston
Materials: Mulberry bark
Recommend to: Advanced Level, Beginners, Medium Level, Professionals
Suitable for: Calligraphy, Chinese Painting, Mounting
Product Size: 46 × 2500 cm
Product Weight: 3200


Wenzhou Pi Paper 皮纸

$

19.06 (

USD

) Add
Recent discussions in: 装裱 Mounting