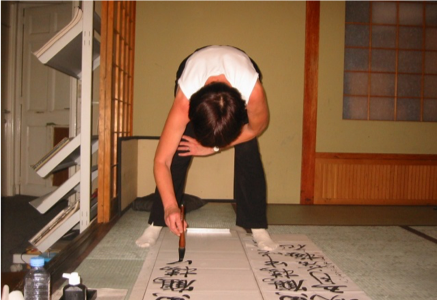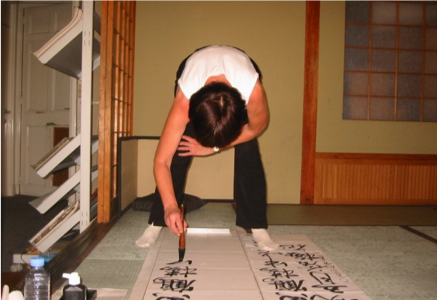 Please note: This interview was done in DUTCH. In the second part of this post, you will find dutch version. 🙂 We hope you like it.

Click FREE paper pack to receive free samples.

From January 2020, Inkston started 'art afternoon tea' with artists from various countries in order to explore the art communication between west and east. Are there any contrasts, conflicts, and harmony between west and east arts? Any uncomfortable feelings when the 2 elements meet? Maybe inspirations are generated in this 'uncomfortable' fusing process. This is how we came up with the idea of meeting art between west and east.

We decided to have series of tea chat with artists from different cultures. We want to explore the conflicts, doubts, contrasts experienced by them. We hope to have more art aficionados inspired. 😉 If you are interested in our 'art afternoon tea' project, please feel free to contact us.

We start our high tea with Belgian artist Sol Michiels. She is currently residing in Bruges, Belgium and has been influenced very much by Japanese calligraphy. Sol is going to talk about her art journey and share her opinions on oriental art. 😀 Let's start our journey together with Sol to Kyoto, Japan. You can also find more information about Sol on her artist page: Sol Michiels.
My Way to Be an Artist
How did you become the artist you are today? What are the 'bumps' in the road to get where you wanted to be?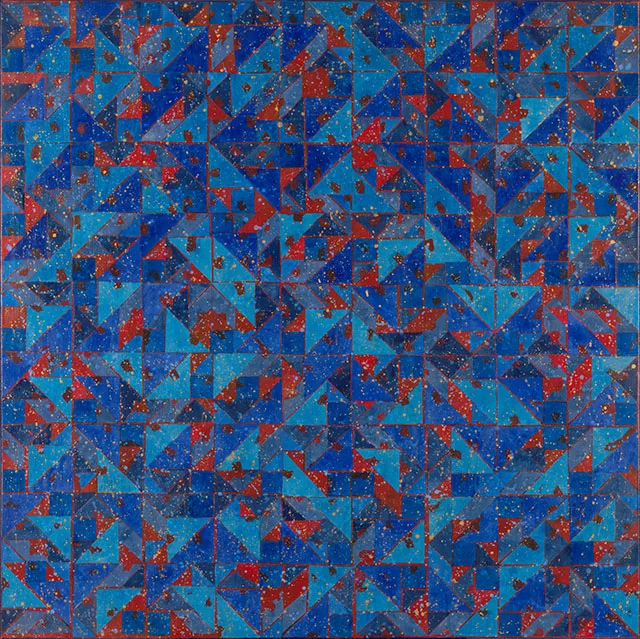 Since I was a child, I always wanted to go to the art academy, but my parents did not allow me to do so. You see, we had financial difficulty at home. Therefore, choosing to study arts was not such a wise choice at that time in my parents' eyes. I sometimes drew dragons and mythical beings because they simply fascinated me. I wanted and would study art, so I went to Maricolen (in Bruges) to study art. There I learned the basics of drawing, but they didn't feel right. Everything was about following a structure and not seeing art with your own eyes nor your soul. It was all about decoration, nothing more.
As every artist knows art is not a well-paid job if you are not successful. So, my mother wanted me to become a teacher even though I did not want to become a teacher at all. By that time, I was married but I still wanted to be self-sufficient and not be depending on my husband. I went to Oostende to follow a course so that I could work in city as administrator. At home I tried oil painting occasionally. However, I was living in an apartment. The paint smell quickly spread in the hallway and bothered my neighbours. About when I was 30, I finally went to the academy I wanted to go when I was a child. I followed evening courses 4 times a week for 4 years. You must know that creating something, which you can call your own, was very important to me. And after some years I noticed that some teachers wanted you to copy them, and they would interfere your work. I hated this situation, so I left …
How did you encounter Japanese style calligraphy? What are your experiences?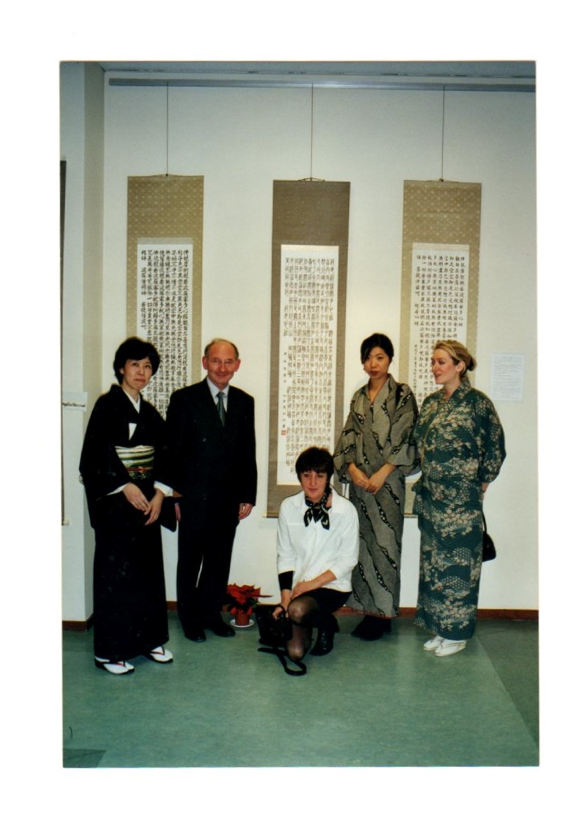 One day I was walking in Brussels when I noticed a poster hanging on a window. 'Introduction to Japanese calligraphy' it said. I was not a spontaneous person but, at that moment, I just went for it. Could this harm? No. For the next decade I travelled every Tuesday to Brussels for art training of 2 hours and half. My professor Kyoko Machida was a good calligrapher. She was a teacher of the calligraphy school established by Kampo Harada. In Japanese calligraphy there are different degrees/levels to accomplish. These are named 'dan'. All of our final works were sent to Kyoto every month to be graded and then they were sent back to Brussels.
Painting was taught via video clips in Japanese. I couldn't understand what they said so I just mimicked the movements which were demonstrated in these video clips. Each subject was taught for one month, so repetitive practice was important for me to improve my skills. When I received my 5th dan I began to teach in Brussels and at home in Bruges for 14 years.
Before this Japanese calligraphy training, I followed some Chinese calligraphy classes in Etterbeek for a short period.
Materials
What is the difference between Chinese/ Japanese/ Korean paper?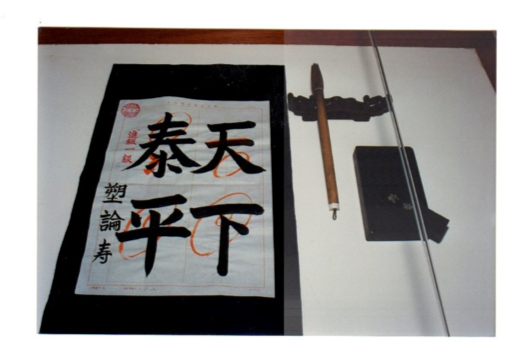 I have only followed one Korean calligraphy workshop where I was told that I had to forget everything I had ever learned about Japanese calligraphy. I couldn't get my head around it so that's why I didn't continue with the workshop.
I don't think there is much difference in the papermaking. I do have a sample book (that I luckily stumbled upon but so happy to own it) of a Japanese papermaking factory, which is called 'Awagami factory'. They make paper out of practically everything: radish, hay, potatoes, bamboo, … Magnificent.
Do you have any favourite materials you like to work with?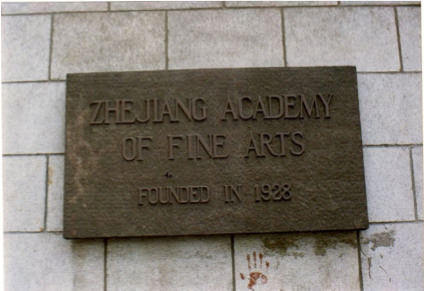 I've always been a little greedy on that level. I like to have a lot of different materials to work with. To explore what they do or what you can do with them. I believe it is essential for an artist to have a lot of different materials. Some people would use small accessories such as a water dropper, but I do not use it. I rather like to keep everything simple. I also like to use a brush that 'listens' to what I want to say. A brush that resists a bit but not too much. It all depends on what I want to have as result. Years ago, it was extremely difficult to get some good materials. I had to go to Paris or Amsterdam to get good materials, now it's much easier with the internet. For example, Inkston is a very reliable place for high quality art materials and art knowledge.
Between West and East – On the Art Road
What were your first thoughts about Japanese/Chinese calligraphy?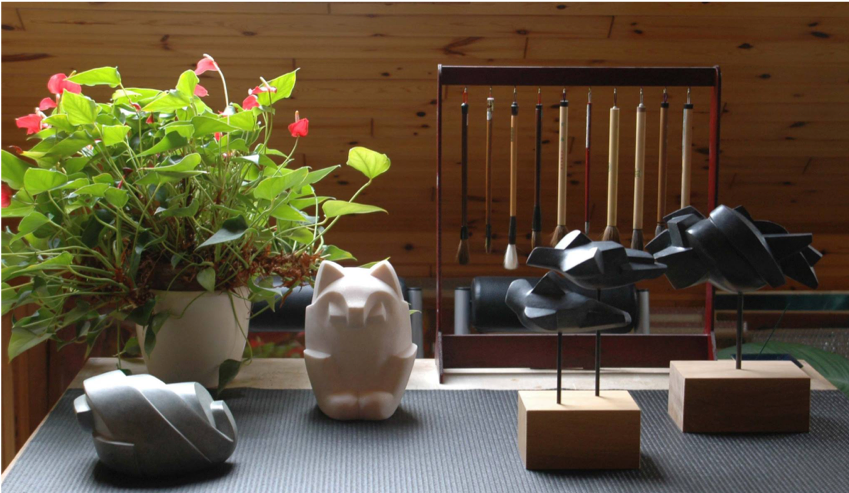 Ever since I was 14 years old at art school, I've always been a reader. My characters are three dimensional. I am so fascinated with how these characters originated. There is nothing like this in the West to compare. Simply natural aesthetic. I do feel that cursive script can feel a bit 'weaker' than the standard regular script. Probably this is because regular script looks stronger and more solid. Nevertheless, everything about Japan has a great finesse. This includes culture, clothes, art … everything.
Have you experienced difficulties learning oriental calligraphy?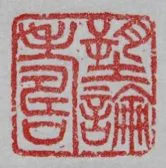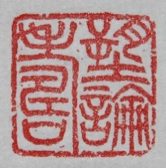 Learning the language would take a lot of time; and I use characters for my art works. That does not mean that I don't care about the meaning, not at all. I try to use dictionary to thoroughly translate every word or work I find interesting. Japanese and Chinese simply fascinate me. Perhaps this is because you don't write what you hear; you must know the character that goes together with the meaning.
How do you think about Western people's thoughts on Asian art (such as calligraphy)?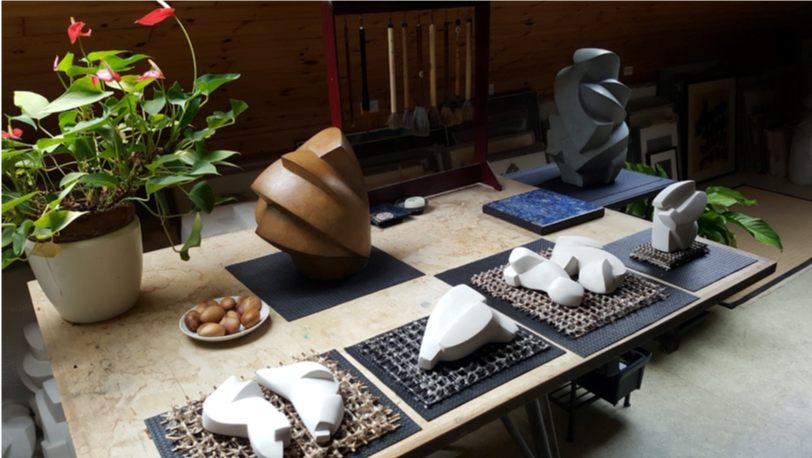 The mindset of Western people is different than of people from the East. For Western people it may not take long time to get a result. As for Eastern people, they do not focus that much on the time or result. Once I was giving a demonstration to students between 14 and 16 years old. After a couple of hours I just decided to close my books because none of them was paying attention or had any respect to their work nor to their classmates. And I noticed when I was in Berlin that Chinese people were incredibly proud that a Western person was interested in their culture.
Did you have a goal when you started teaching calligraphy?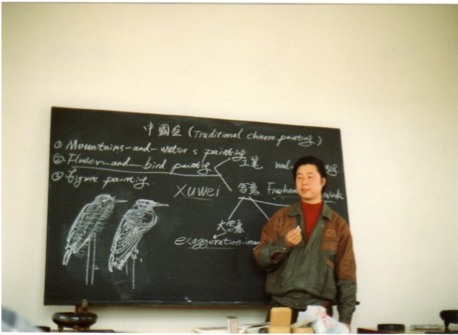 People always ask me where I learned. As I never wanted to become a teacher, it seems strange for me to teach. My professor of Japanese calligraphy asked if I wanted to give a demonstration and I guess that's how I joined. The demonstration was in Brussels where the main language is French. My French was not that excellent, but I tried to explain what I knew as well as possible.
Any suggestion for people who do not understand the language (Chinese characters) but still want to do calligraphy?
Simple, you do not have to know the name of the flower to find it beautiful.
Dutch Version: 
Mijn weg om artiest te worden
Hoe werd je de kunstenaar die we nu kennen? Heb je moeilijkheden gehad om te worden wie je wou zijn als kunstenaar?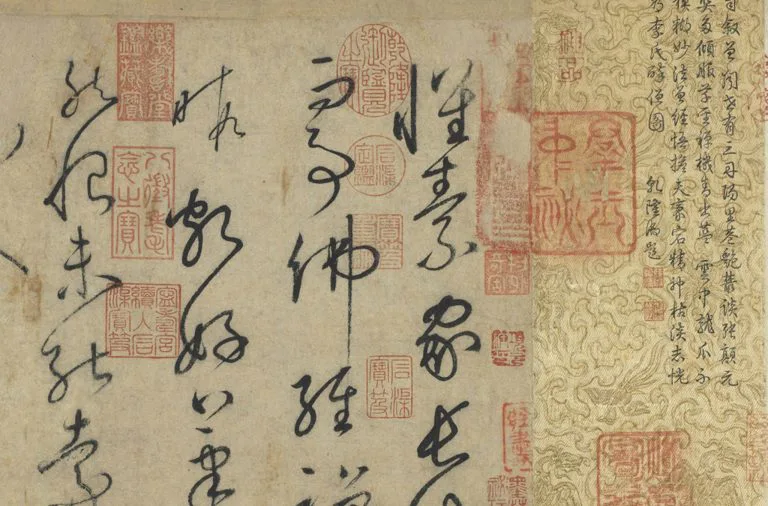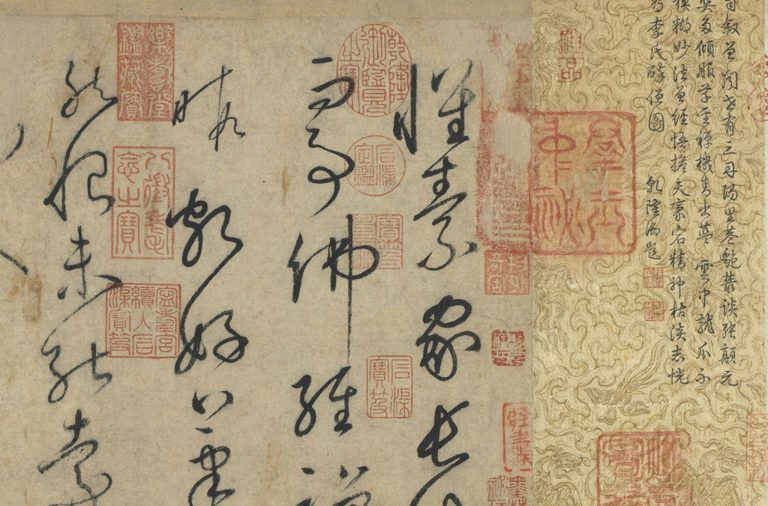 Al sinds ik een kind was wilde ik naar de kunstacademie maar mijn ouders lieten dit niet toe. M'n ouders hadden het financieel namelijk niet gemakkelijk. Daarom was kiezen voor kunst te studeren geen goed idee in de ogen van m'n ouders. Soms tekende ik draken en andere mystieke wezens omdat ze me simpelweg fascineren. Ik wilde en zou kunst studeren dus ging ik naar school in Maricolen (te Brugge). Ik leerde daar de basis om te tekenen maar ergens voelde het niet goed. Alles moest volgens een bepaald stramien en het ging niet om het maken van kunst door je eigen ogen, je eigen gevoel. Het ging meer om decoratie, niets meer.
Zoals elke kunstenaar wel weet is het niet de bestbetaalde job als je niet succesvol bent. Dus wilde mijn moeder dat ik een leerkracht werd, iets wat ik totaal niet wilde zijn. Tegen die tijd was ik getrouwd maar wou nog altijd zelfstandig zijn en niet afhankelijk zijn van mijn man. Ik ging naar Oostende om een cursus te volgen zodat ik aan de stad kon werken als bediende. Thuis probeerde ik af en toe te schilderen met olieverf. Ik leefde toen in een appartement wat het minder aangenaam maakte voor mijn buren doordat de verf vlug zijn geur verspreidde door de gang. Toen ik 30 was, ging ik eindelijk naar de academie waar ik altijd naartoe wou als kind. Ik volgde avondlessen 4 keer in de week voor 4 jaar. Je moet weten dat iets creëren dat van jezelf is heel belangrijk is voor mij. En na enkele jaren viel me op dat sommige leerkrachten wilden dat je hen naschilderde, en ze verstoorden je werk. Ik kon hier niet tegen en vertrok dus …
Hoe kwam je in aanraking met Japanse kalligrafie? Wat zijn jouw ervaringen?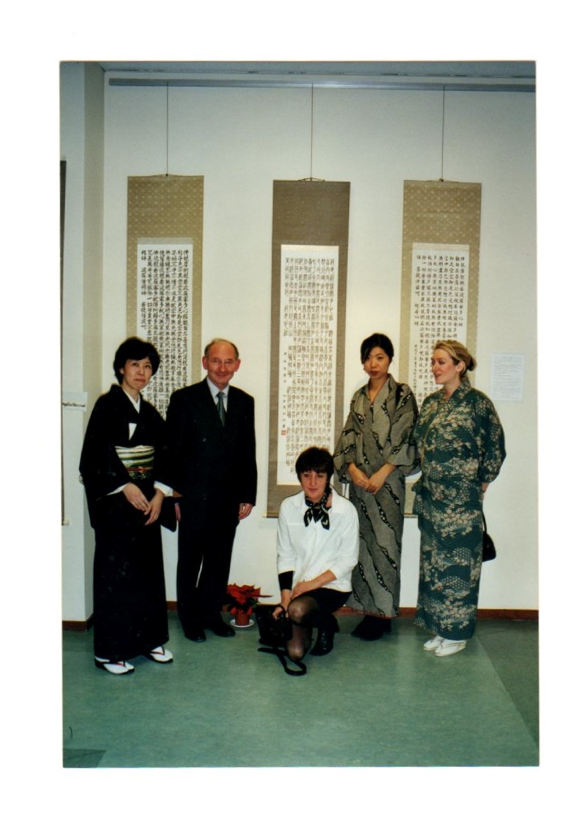 Op een dag wandelde ik in Brussel en er viel een poster op die aan een raam hing waarop stond 'Introduction to Japanese calligraphy'. Ik ben geen persoon die spontane beslissingen neemt maar op dat moment ging ik er gewoon voor. Kon geen kwaad, toch?  Voor de volgende 10 jaar reisde ik elkde dinsdag naar Brussel voor de les van 2 uur en een half. Mijn professor Kyoko Machida was een goede kalligrafe. Ze was een leerkracht in de kalligrafie school opgericht door Kampo Harada. In Japanse kalligrafie zijn er verschillende niveau's die ja kan bereiken. Ze noemen dit 'dan'. Elke maand werden onze eindwerken opgestuurd naar Kyoto om geëvalueerd te worden en daarna terug te sturen naar Brussel.
Schilderen leerden we via video's die in het Japans waren. Ik begreep niet wat er gezegd werd dus bootste ik de bewegingen na die we te zien kregen. Elk onderwerp duurde één maand om aan te leren. Herhalen was dus belangrijk voor me om beter te worden. Toen ik mijn 5de dan ontving, begon ik met lesgeven in Brussel en bij mij thuis voor 14 jaar.
Voor deze Japanse kalligrafie les, volgde ik Chinese kalligrafie lessen in Etterbeek voor een korte periode.
Materialen
Wat is het verschil tussen Chinees/Japans/Koreaans papier?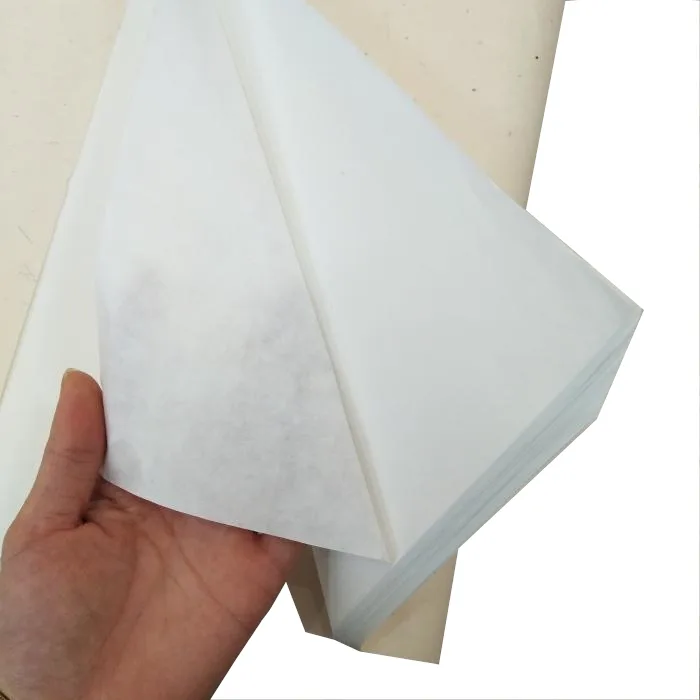 Ik heb één keer een Koreaanse kalligrafie workshop gevolgd waar ze mij vertelden alles te vergeten wat ik had geleerd over Japanse kalligrafie. Dat lukte mij niet dus ben ik gestopt met die workshop. Ik denk niet dat er veel verschil is in het papier. Ik heb een boek met verschillende stalen van een Japanse papierschepperij 'Awagami factory' (die ik gelukkig lukraak ben tegen gekomen). Ze maken papier van letterlijk alles: radijs, hooi, aardappelen, bamboe, … Prachtig.
Heb je favoriete materialen om mee te werken?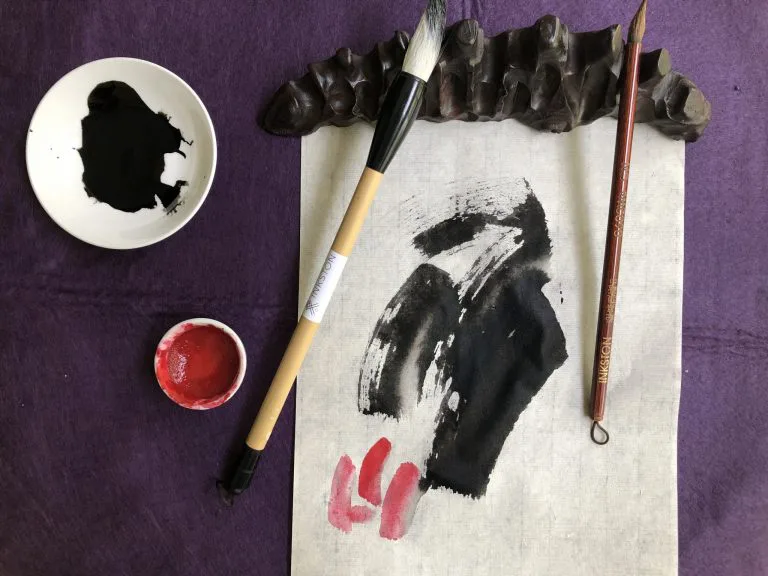 Ik ben altijd een beetje gulzig geweest op dat vlak. Ik heb graag veel verschillende materialen om meet e werken. Ontdekken wat je er mee kan doen. Ik ben ervan overtuigt dat het van belang is dat een kunstenaar veel verschillende materialen bezit. Sommige mensen vinden kleine accessoires zoals een waterdruppelaar heel leuk maar ik gebruik dat niet. Ik houd het liever simpel. Ik gebruik ook graag een penseel die 'luistert' naar me. Een penseel die een beetje tegenwerkt maar niet te veel. Het hangt ervan af wat ik wil als resultaat. Jaren geleden was het ontzettend moeilijk om goed materiaal te vinden. Ik moest naar Parijs of Amsterdam gaan om goed materiaal te halen. Dat is nu veel gemakkelijker met het internet. Bijvoorbeeld, Inkston is een zeer betrouwbare bron voor kwaliteitsvolle kunstartikelen en -kennis.
Op de kunstweg
Wat waren je eerste bedenkingen rond Japanse/Chinese kalligrafie?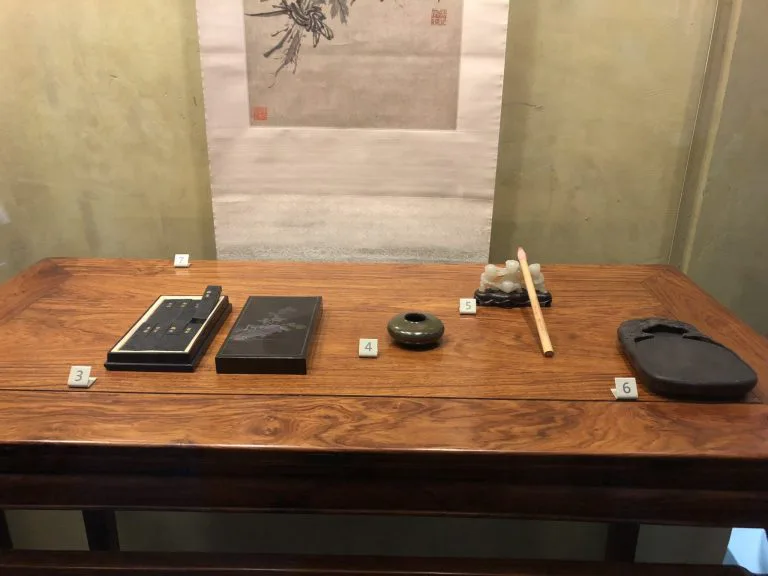 Ik ben altijd een lezer geweest sinds mijn 14 jaar in de kunstacademie. Karakters zijn voor mij driedimensionaal. Ik vind het enorm fascinerend hoe deze karakters zijn ontstaan. Er is niets hier in het Westen om mee te kunnen vergelijken. Simpele natuurlijke esthetica. Ik vind wel dat het cursieve schrift soms wat 'zwakker' kan aanvoelen dan het standaard schrift. Waarschijnlijk omdat het standaard schrift sterker lijkt en steviger. Desalniettemin, heeft alles rond Japan een grote finesse. De cultuur, de kleren, de kunst … alles.
Ervaarde je enige moeilijkheden tijdens het leren van oriëntaalse kalligrafie?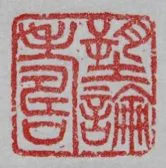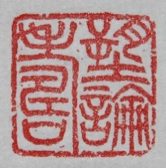 Leren van de taal zou veel tijd vergen en ik gebruik karakters voor m'n kunstwerken. Dat wil niet zeggen dat ik niet geef om de betekenis, zeker niet. Ik gebruik een woordenboek om grondig elk woord of werk te vertalen die ik interessant vind. De Japanse en Chinese taal is gewoon zeer boeiend. Misschien komt het omdat je niet schrijft wat je hoort, je moet het karakter kennen om de betekenis te weten.
Hoe staan Westerlingen tegenover Aziatische kunst (zoals kalligrafie) volgens jou?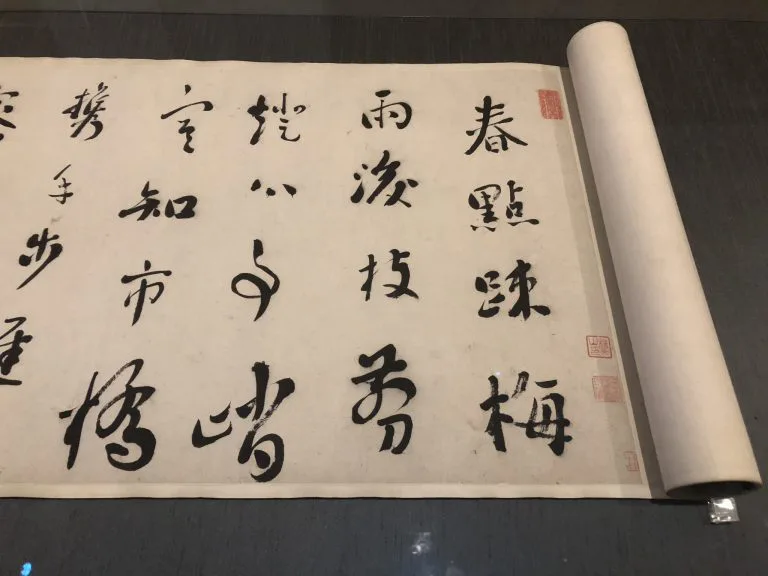 De manier van denken bij Westerse mensen is verschillend dan mensen van het Oosten. Voor Westerlingen mag het niet te lang duren om resultaat te boeken. Terwijl mensen van het Oosten niet gefocust zijn op het resultaat maar eerder de tijd ertussen. Ooit gaf ik eens een demonstratie voor studenten tussen 14 en 16 jaar oud. Na enkele uren besloot ik mijn boeken dicht te slaan omdat niemand aandachtig was of respect had voor hun medestudenten of hun werken. Ik merkte ook op toen ik in Berlijn was dat Chinese mensen zeer trots zijn dat een Westerling geïnteresseerd is in hun cultuur.
Had je een doel toen je begon met lesgeven in kalligrafie?
Mensen vragen me altijd waar ik dit geleerd heb. Omdat ik nooit een leerkracht wou worden, was het vreemd voor me om les te geven. Mijn professor van Japanse kalligrafie had me gevraagd om een demonstratie te geven en ik vermoed dat ik er zo ben in gerold. De demonstratie was in Brussel waar de hoofdtaal Frans is. Mijn Frans was niet zo goed maar ik probeerde toch met handen en voeten uitleg te geven.
Heb je advies voor mensen die willen leren kalligraferen maar de taal niet kunnen lezen (Chinese karakters)?
Simpel, je moet de naam niet weten van een bloem om die mooi te vinden.