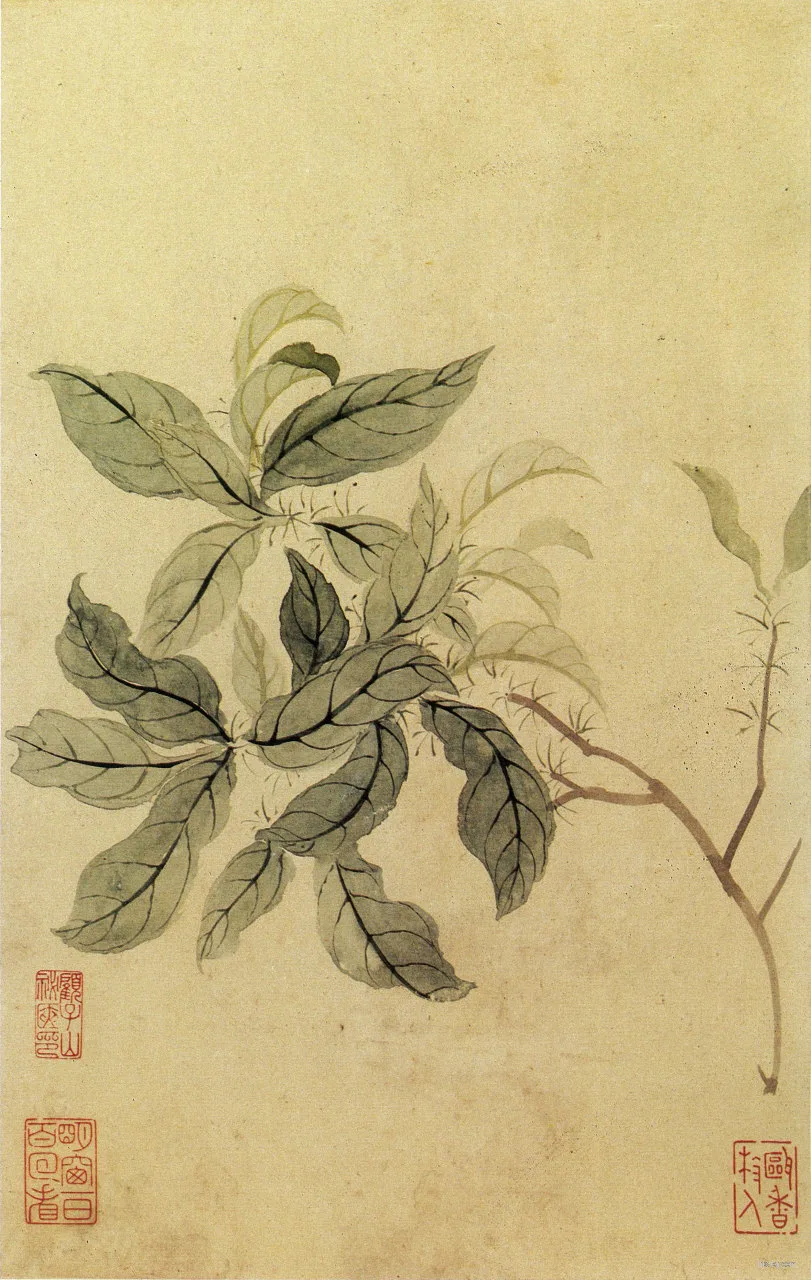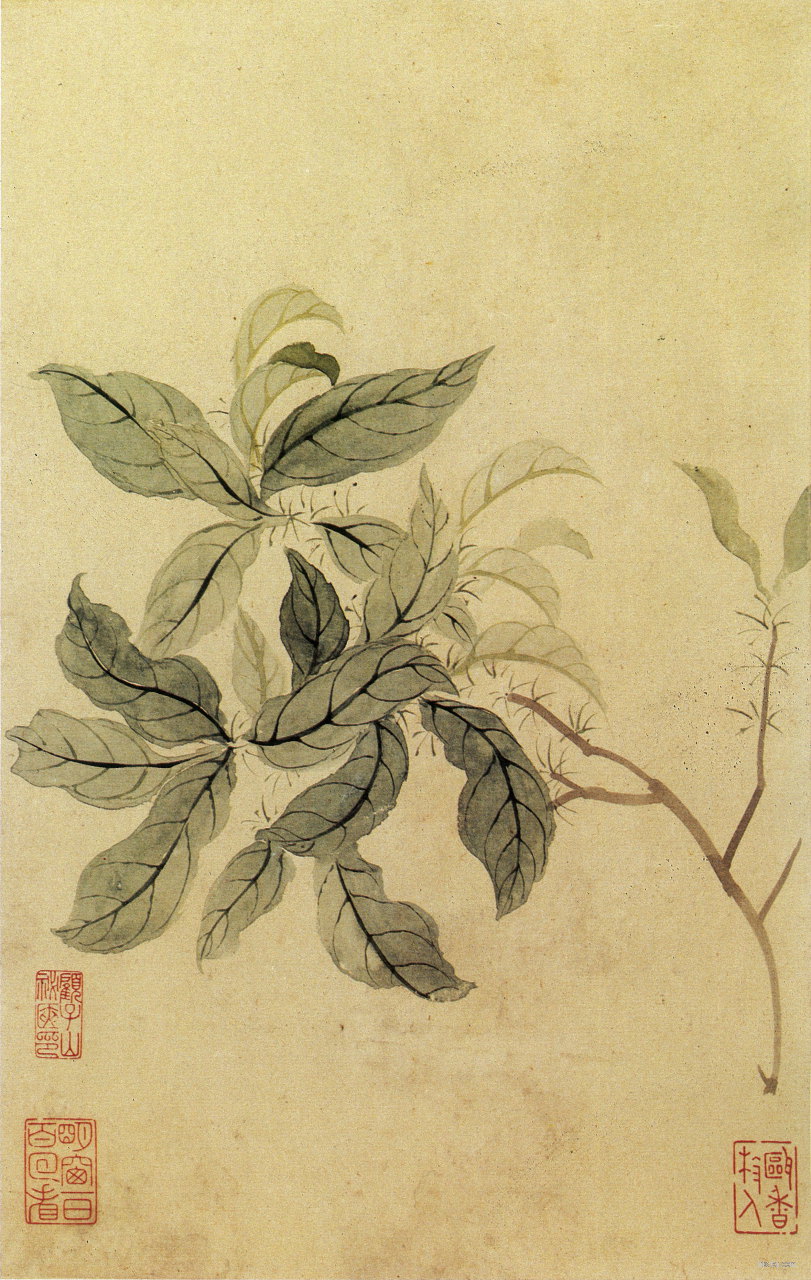 Part of a series of articles on painting techniques from 'Mustard Seed Garden' manual and encyclopedia of chinese painting.
Inkston Summary
A complete flower painting needs good combination of flowers, leaves, and branches. Flowers need to be 'boneless', and branches are the structures. From this perspective, leaves function as the connection of flowers and branches.
Branches help flowers to develop. To 'develop' a beautiful flower plant, leaves are essential 'joints'. Therefore, you should never ever ignore the importance of flower leaves. In a painting, flowers should always be vivid and active, as if they are dancing in wind. To develop this 'dancing' trend, we shall use leaves to express the 'tendency'.
There are different ways to paint leaves which seem to be 'in traction'.
• While painting leaves all outside, try to paint some leaves inside out.
• All the leaves shall have different sizes. Some leaves are longer than others; and some are bigger than others.
• Ensure that different types of leaves are staying in the same painting harmoniously. It might be difficult to understand this point. However, we have some tips for you:
If there are mostly long leaves, try to add a couple of 'folding' leaves. 'Folding leaves' means the leaf is not 'straight' but seems to be folded from certain angle. The typical example for this practice is orchid leaves.
If you paint leaves with black ink, then the outside of the leaves shall use darker black ink than the inside of the leaves.
If you paint leaves with colour pigments, such as green, then the outside shall use bluish green while the inside leaves shall use green.
For lotus leaves, it is recommended to add a little bit pink in green pigments.
For begonias leaves, it is recommended to add a bit red pigment in green for its inside leaves.
Inkston Summary: again, the basic rule for Chinese painting is to keep the whole painting harmonious. In order to paint leaves well, it is recommended to paint leaves in different sizes, shapes, shades, etc. There are some tips to mix paints in order to paint the leaves better: for example, add a bit of pink to green colour for lotus leaves; add a bit of red to green for begonias leaves; etc. Be aware that two sides of the leaves need to have different colours. All in all, leaves function as an important 'join' for flowers and branches. They need to be flexible and vivid.
Video
Mustard Seed Garden Video tutorial by Chinese artist Wu Peng 吴蓬, who was born in 1941 and currently researcher of Shanghai Calligraphy and Painting Institute. He is especially famous for calligraphy (Oracle) and flower paintings.
The video is in Chinese but you can see the technique even if you can't understand chinese well:

【芥子园画谱技法讲座】 24(三)花卉翎毛(01 02)草本花头、藤本花头
The second part of this video deals with Flower Stems – see our related article for more.
Pictures
Related pictures from the Mustard Seed Garden book.
How many tips can you find in these paintings? Then, could you try to paint different leave types with the tips?
Cover Picture
Here's an example of a finished Osmanthus flower picture by master of Flower-and-Bird painting Yun Shou Ping 惲壽平 (1633—1690)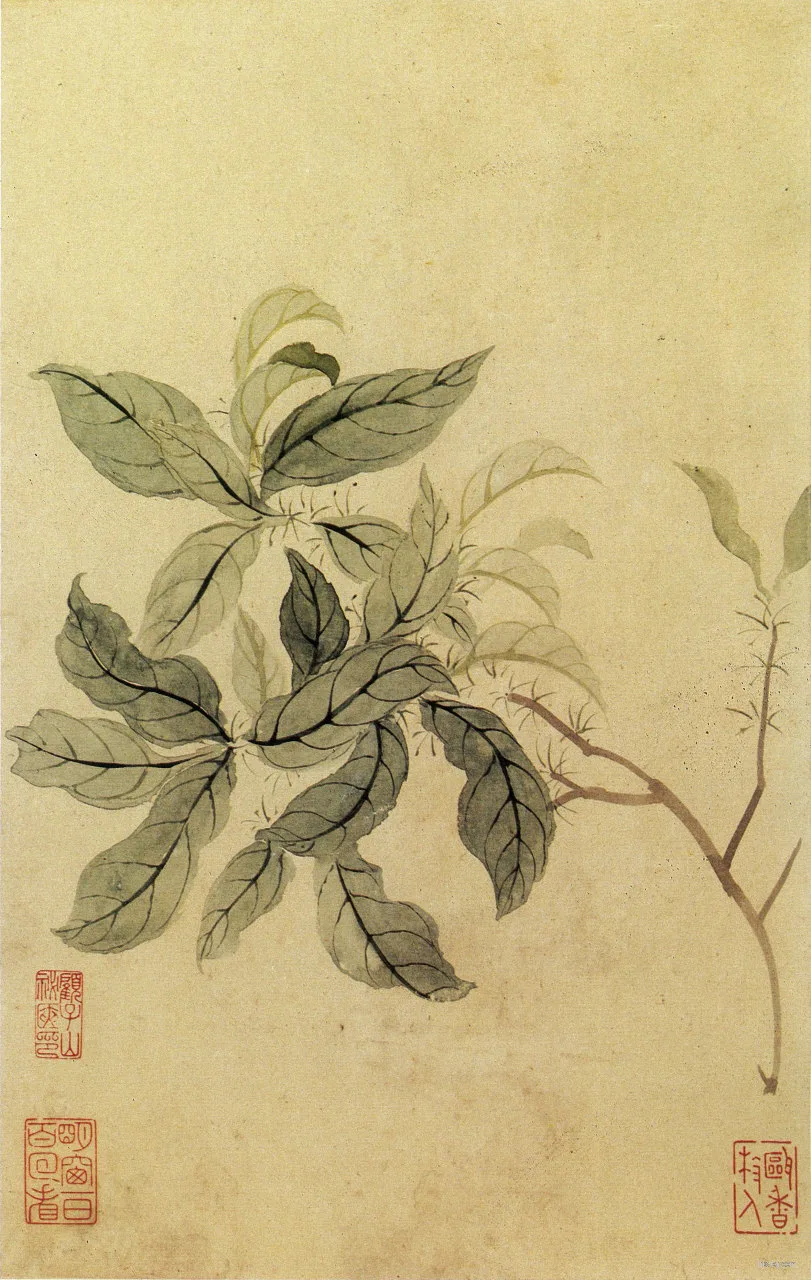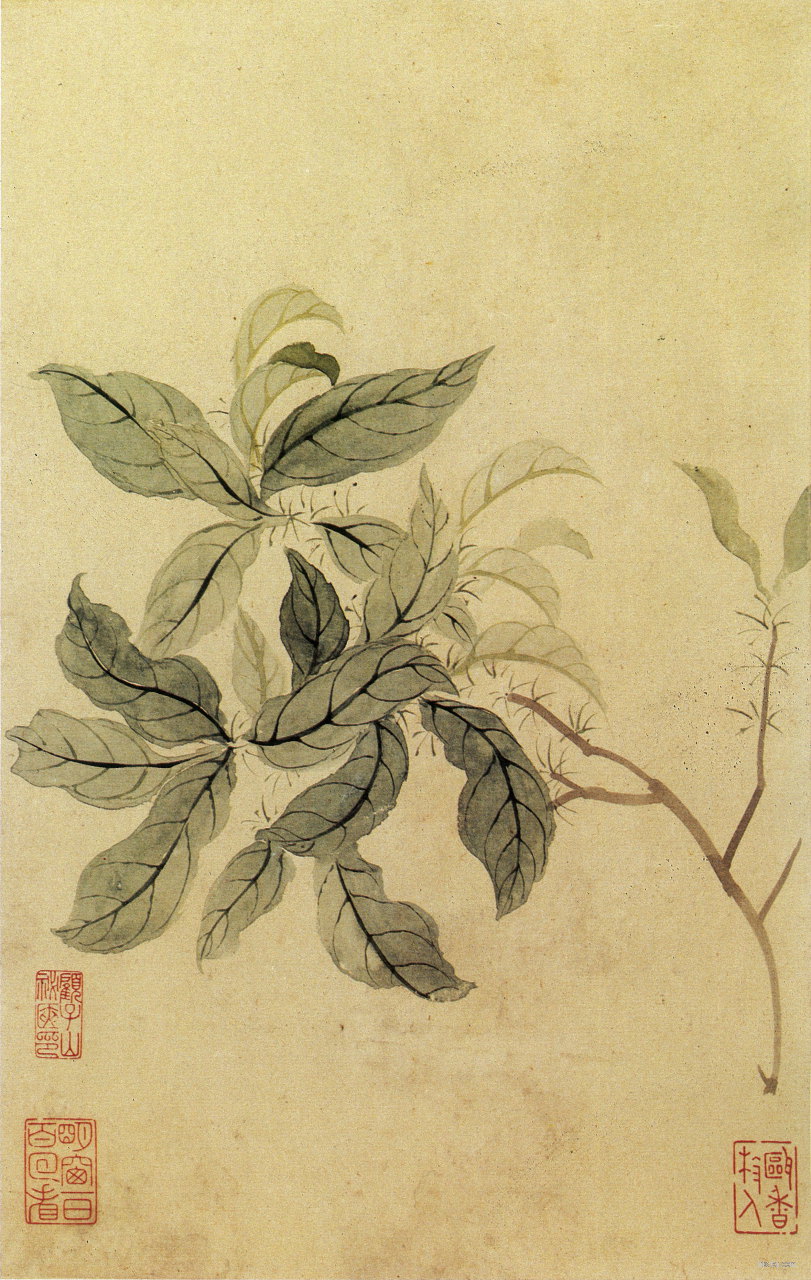 You can also see Yun Shou Ping online gallery and poster book on inkston:
恽寿平 Yun Shou Ping Landscape Flowers and Birds Painting Album
Materials
There are quite a few Xuan papers suitable for flower painting. For example, all the Inkston Perfect series papers and Inkston 6575 Xuan Paper are very popular among professionals. If you still are not sure which paper to start with, we would recommend you to try any of these two papers which are made with special inkston recipes for flower and bird paintings. If you want to do Gongbi detailed painting, please choose Inkston Gongbi Xuan paper. And as mentioned in the article, silk is a very good material for flower and bird paintings.

For brushes, we would recommend you to read through our Brush Buyer Guide and choose the most suitable brushes for you. If you still do not know which ones to choose, combination hair brush would never fault. You can also contact us for suggestions. Still, we would recommend everyone to prepare one small weasel hair brush to paint details on flowers.

For inks, like all the Chinese paintings, black ink is a must. Besides, we would recommend you to prepare some colour pigments. Please refer to our article on Chinese Colours.

Books
Want to read more about this subject? It is always a good idea to keep a set of Chieh Tzu Yuan Manual of the Mustard Seed Garden at hand. Here are some flower painting books which inkston is using and would like to recommend.