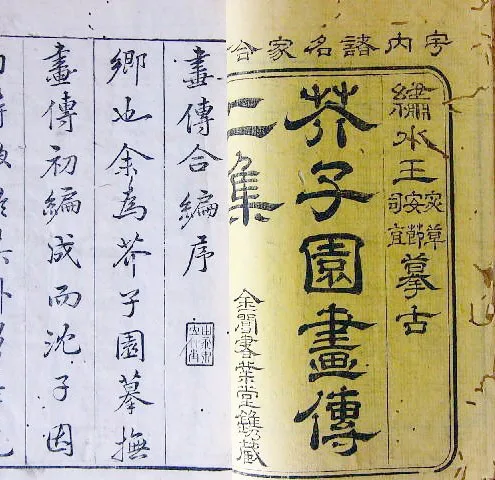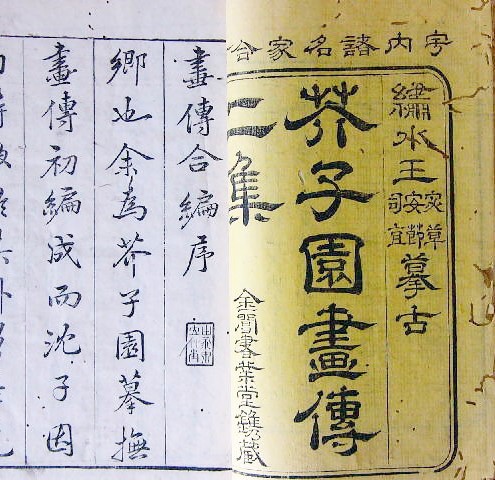 Manual of the Mustard Seed Garden, 芥子園畫譜, is the very first collection of guides about Chinese painting and is still referred to today. It shows people how to do Chinese painting in a very organised and systematic way.
This set of books were first published in Qing Dynasty (* first volume was published in 1679) . The son in law of Li Yu, 李渔, a famous intellectual in Chinese history, invited a team of artists to make a Chinese painting learning guide. The manual has four volumes and each volume covers a very specific subject area.
This paintings are done by Wáng Gài (王概), a famous artist in Qing Dynasty. Wáng Gài (王概) painted these landscape paintings based on another artist called Li Liufang (李流芳), from Ming Dynasty. This volume includes introduction, master colours, tree, mountain and rock, people and house, natural landscape paintings of famous artists, etc.
Paintings about orchid and bamboo are done by artist Zhu Xi An, paintings of blossom and chrysanthemum are done by artist Wang Yun An. Besides paintings from these two famous artists, some paintings are also done by several other artists who specialized in paintings of flowers and plants. Volume three is edited by brothers Wáng Gài (王概), Wáng Shī (王蓍), and Wáng Niè (王臬).
Most of the paintings are done by brothers Wáng Gài (王概), Wáng Shī (王蓍), and Wáng Niè (王臬).
This collection of paintings are by various artists from Qing Dynasty.
Generally speaking, in over 300 years since the Manual of Mustard Seed Garden was published, many Chinese artists started their professional painting life with this collection. These famous artists include Qi Bai Shi, 齐白石, who publicly claimed that he was enlightened by this painting manual. Although this set of books are written in ancient Chinese language, it was translated in the early 20th century into English and was published in the United States.
Currently, inkston is publishing some interesting painting tips from the original copy of the Manual of the Mustard Seed Garden and sharing these on inkston in different languages with more Chinese art lovers. If you are interested in this series of articles on Chinese paintings skills, you can subscribe inkston's newsletter and check our other Mustard Seed Garden posts. If you have any comments on Chinese art, you are also welcome to leave your comment under the article or post a question on the forums.
Quote from wikipedia:  An English translation of the work, The Tao of Painting – A study of the ritual disposition of Chinese painting. With a translation of the Chieh Tzu Yuan Hua Chuan or Mustard Seed Garden Manual of Painting 1679-1701, was made by Mai-mai Sze and published in New York in 1956.
There are quite a few publishing houses who published this set of books. You can either buy one book separately or buy the whole set or you can also order from inkston: