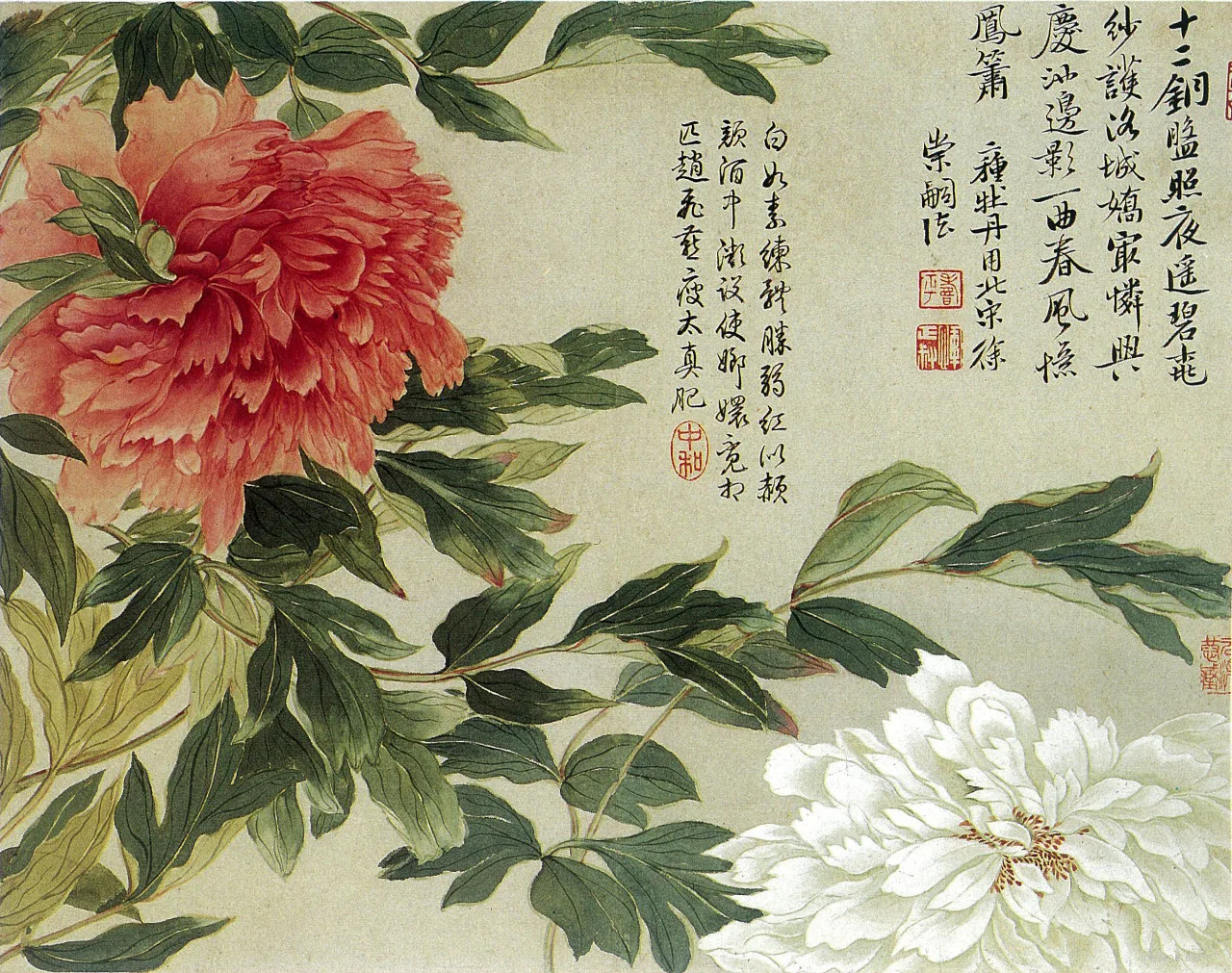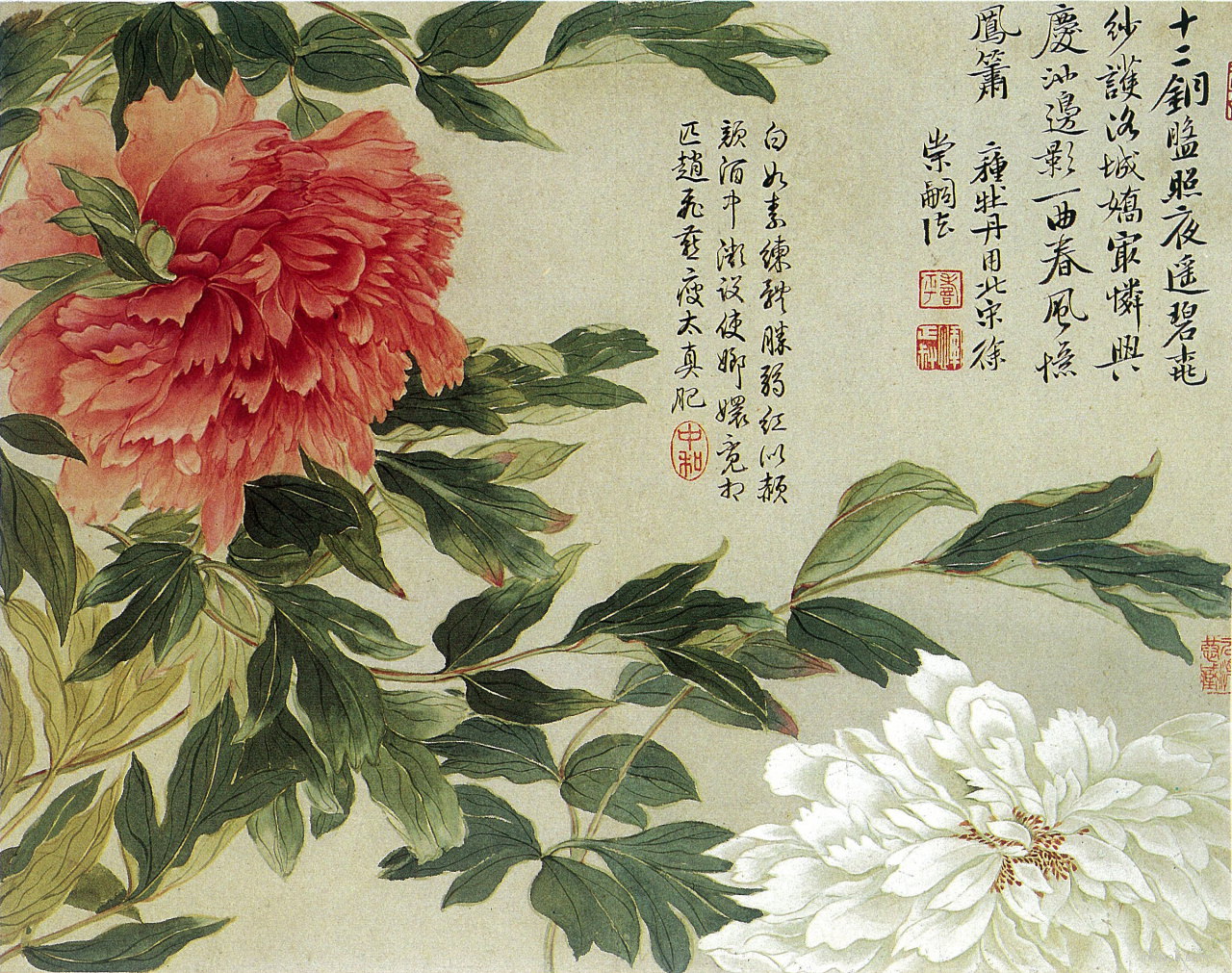 Part of a series of articles on painting techniques from 'Mustard Seed Garden' manual and encyclopedia of chinese painting.
Cover Picture
Here's an example of a finished Peony flower picture by master of Flower-and-Bird painting Yun Shou Ping 惲壽平 (1633—1690)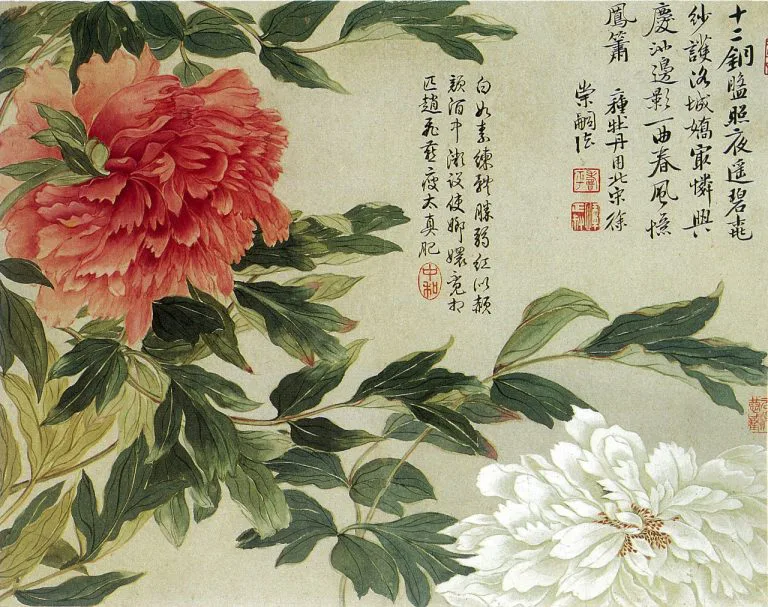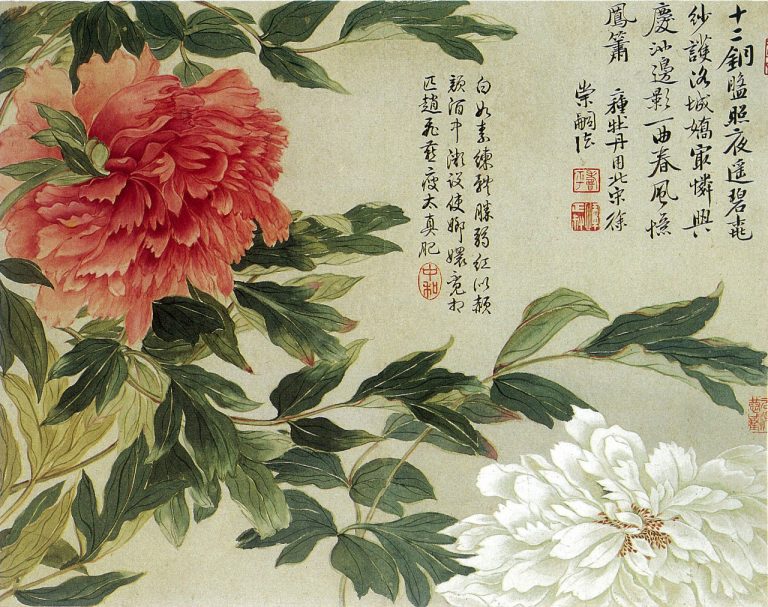 You can also see Yun Shou Ping online gallery and poster book on inkston:
恽寿平 Yun Shou Ping Landscape Flowers and Birds Painting Album
Petals Tips from Mustard Seed Garden
Each flower has its own personality. Observing closely, you will find there might be hundreds thousands types of flowers and each one is unique. Therefore, to paint flowers well, it is very important to learn how to set your 'angle'. Consequently, main principles to bear in mind are that:
• all the flowers can be categorized as 'open' and 'not open yet'.
• all the flowers are unique.
Guided with these two principles, these are a few tips for you to consider:
• Do not look down vertically at the flower, because this angle destroys flower's delicate and soft feeling.
• Do not paint the flower heading down, because this makes the flower spiritless.
• Do not paint flowers all at the same size or height, because this makes the flowers inert.
• Paint how flowers are leaning on each other to create a natural tension in the painting. Try to create such a nice atmosphere with your brush and paints that it seems flowers are feeling, thinking, communicating with each other.
• Remember to always keep the painting well balanced: flowers shape, size, posture, colours, etc.
• Remember for the same flower, the inside petals are always tighter, heavier, and deeper coloured than outside petals.
To be more specific, tips on the colour flower petals:
• Petal colour should be fade for broken flowers;
• Petal colour should be very fresh and bright for opening flowers;
• Petal colour should be strong and deep for flowers which are about to come out;
• All the petals for the same flower should not have the same colour shade. Some petals must be lighter than others. If it is yellow flower, you can try to use white pigment to create different shades. If it is pink flower, then you can try light green pigment to create different shades. For example, if you use a little bit green on the edge of pink colour petal, then you will notice this technique helps emphasize white parts of the petal, which helps further express the complicated layers of the flower.
• If you paint the flower on silk, you can try to paint with little dots; if you paint on Xuan paper, then you have choose to paint with dots or any other methods. For more techniques on painting flower petals, please study and practice carefully the 'boneless' painting technique. Inkston will go into details of this technique in future's painting guides.
Inkston's summary: to paint flowers well, you need to observe flowers in daily life and notice how unique each flower is and how the colour develops. When painting flower, please apply paints of different shades to create the vividness of your flower. Also, do not forget that all the elements in your painting shall be connected with each other as if they are talking to each other. All in all, for any painting, the fundamental principle is to keep the whole picture well balanced. Once you understand well these principles, we recommend you to start learning and practicing the famous 'boneless' painting skills.
Illustrations from Mustard Seed Garden
Observing these flower examples, how many painting tips mentioned in this article can you find?
Video
This is a video clip on how to paint flower. It is illustrated by Chinese artist Wu Peng 吴蓬, who was born in 1941 and currently researcher of Shanghai Calligraphy and Painting Institute. He is especially famous for calligraphy (Oracle) and flower paintings. He also published a series of tutorials on the Chieh Tzu Yuan Manual of the Mustard Seeds Garden.
This a rather good 49 minute video on flower painting technique. The video is in Chinese but you can see the technique even if you can't understand chinese well:

http://v.youku.com/v_show/id_XNDE3MjUwNzIw.html
Materials
There are quite a few Xuan papers suitable for flower painting. For example, all the Inkston Perfect series papers and Inkston 6575 Xuan Paper are very popular among professionals. If you still are not sure which paper to start with, we would recommend you to try any of these two papers which are made with special inkston recipes for flower and bird paintings. And as mentioned in the article, silk is a very good material for flower and bird paintings.
For brushes, we would recommend you to read through our Brush Buyer Guide and choose the most suitable brushes for you. If you still do not know which ones to choose, combination hair brush would never fault. You can also contact us for suggestions. Still, we would recommend everyone to prepare one small weasel hair brush to paint details on flowers.
For inks, like all the Chinese paintings, black ink is a must. Besides, we would recommend you to prepare some colour pigments. Please refer to our article on Chinese Colours.
Want to read more about this subject? It is always a good idea to keep a set of Chieh Tzu Yuan Manual of the Mustard Seed Garden at hand. Here are some flower painting books which inkston is using and would like to recommend.