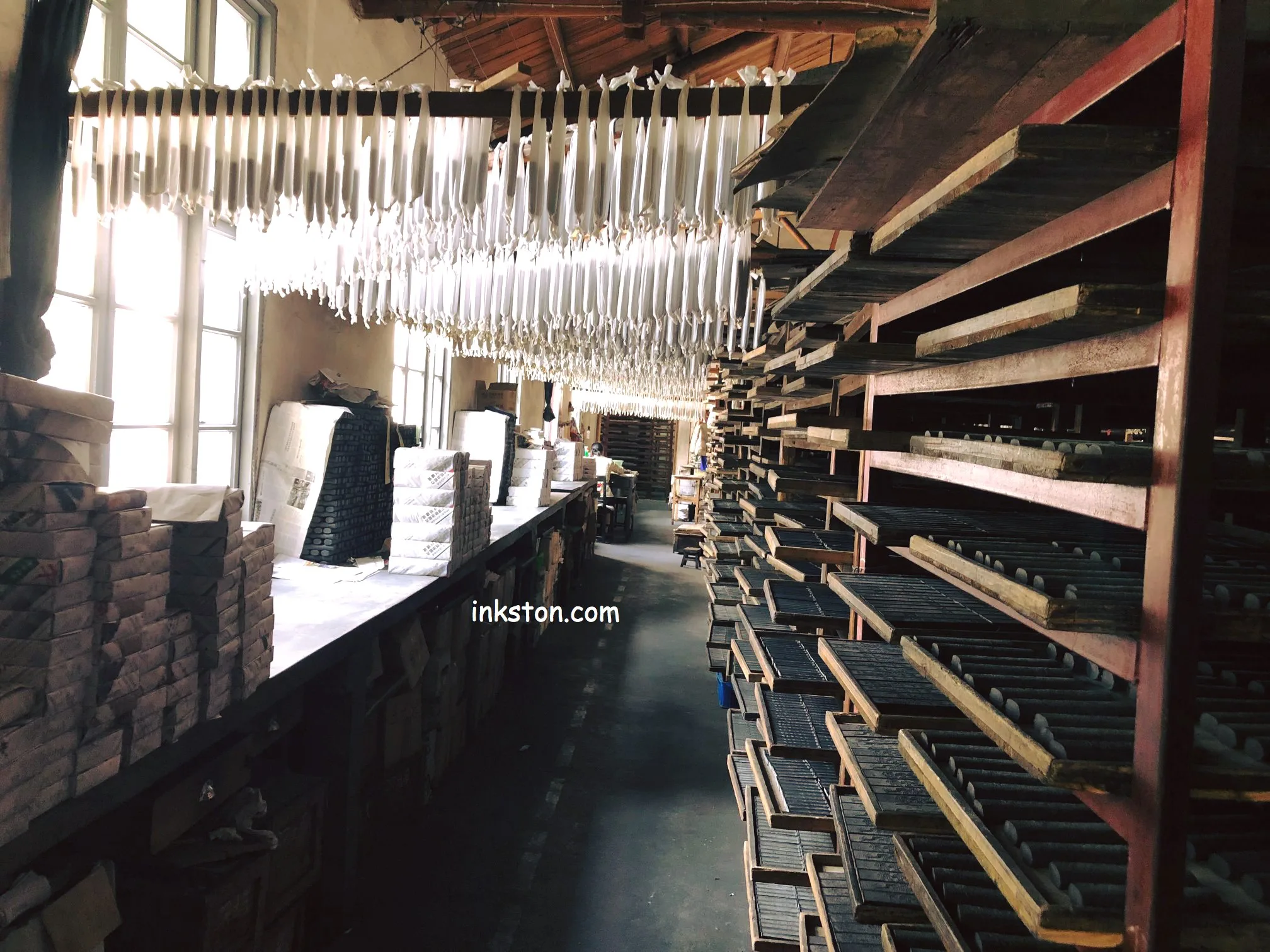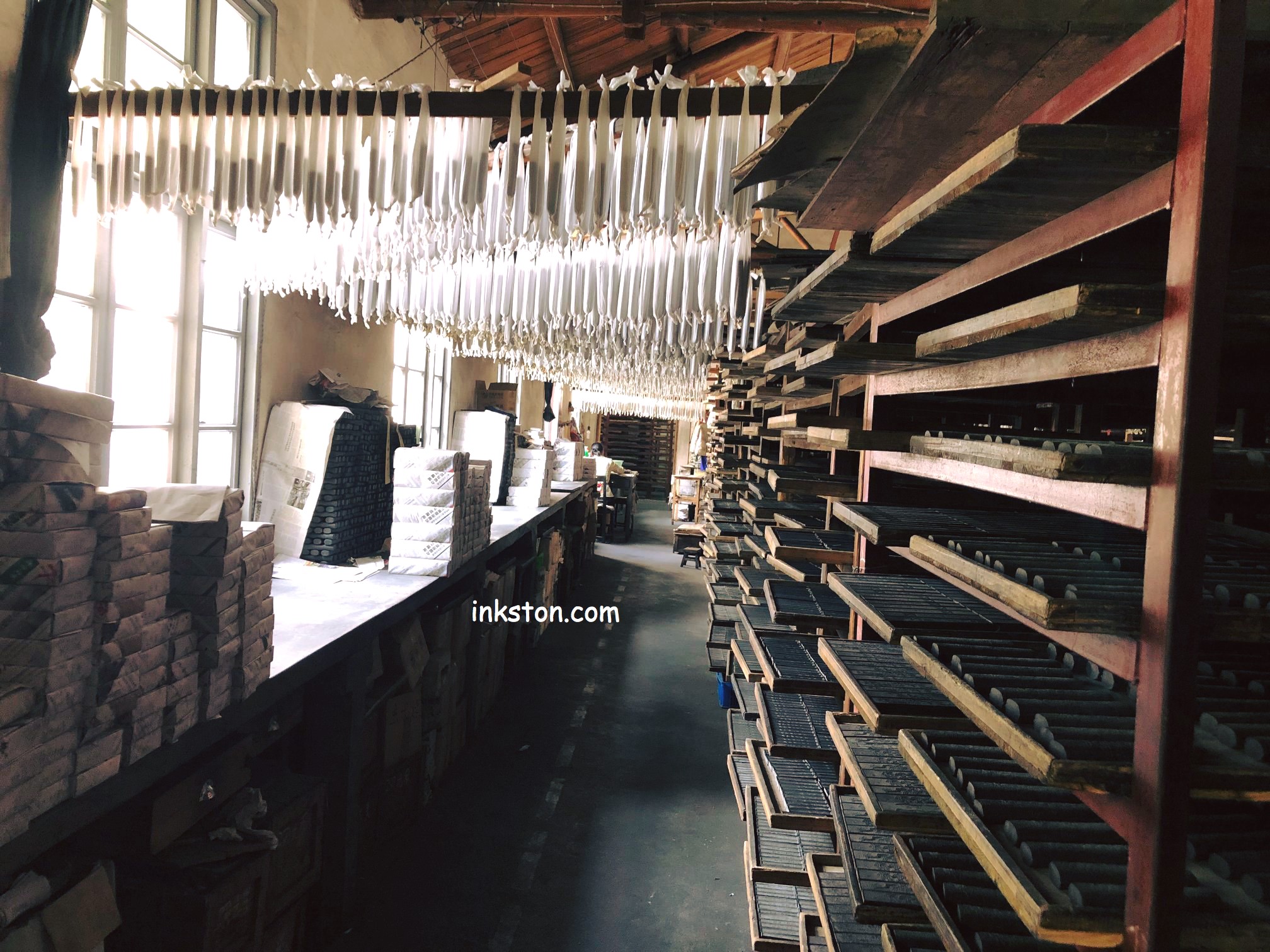 Recently Bruges Confucius Institute came with inkston to visit the Old Hu Kai Wen Factory to see how the traditional inksticks are made by masters. We found a lot of very interesting things to share. Inkstick recipes are still confidential but visitors are allowed to visit 4 workshops: soot collection room, raw materials mixing room, inkstick cellar, and painting room. Also, visitors can join the Old Hu Kai Wen intensive inkstick workshop. The price is 80 RMB and the course lasts for around 2 hours. In this article, you will see interesting photos we have taken in our trip.
Soot Collection Room:
You might imagine ancient style Chinese lamps used to make soot but slightly more modern stoves have been adopted to facilitate the soot production and collection. These both help to collect finer soot and are less labour intensive. Despite the help of the stoves, it still takes half a day to product about 2kg of soot which seems fairly slow for modern production methods. The raw materials are basically fine pine wood, different types of fine oils such as flaxseed oil, tung oil, etc. The oil is led by fine cotton strings into stove(s); and black soot is collected in the big bags attached to each stove.
The craftsman is adding oil into the stove:
Mixing Raw Materials:
unlike the previous workshop where soot is made and collected by modern facilities, it seems all other procedures adhere to the traditional methods. In this room, trained craftsmen are using simple tools to mix all types of raw materials. This room smells of materials and gelatin used to make fine Chinese inksticks. We were told this is the 'strange' smell that only comes from authentic Chinese/ Japanese inksticks. Unfortunately, we were not allowed to see the whole list of raw materials mixed up here. We do remember seeing some photos shared by the current factory general manager. Before becoming general manager of the factory, he actually received decades of training from his father, Zhou Mei Hong, who is the grand inkstick master at the Old Hu Kai Wen. In his photos, he commented that after over 20 years, he was finally allowed to enter the 'Recipe Room' of the Old Hu Kai Wen.
This video clip shows how inkstick masters are processing raw materials in this room.
Inksticks Cellar:
When the inksticks are just completed, they contain too much humidity and so need to be dried. High-quality inksticks are allowed to dry naturally over a long period of time. At Old Hu Kai Wen, all the inksticks need to be sent to this 'cellar' to dry naturally. According to the director of this workshop, it takes at least 3 months to dry an inkstick of around 30 grams. The bigger the inkstick is the longer the time it needs to dry. Some inksticks would even need years to become ready for use. The temperature is around 20 to 25 degrees with moderate humidity – very similar to the conditions of a European wine cellar. And yes, there are tiny devices to detect indoor temperature and humidity in this cellar.
Except for these small detecting devices, we could hardly see any modern devices used in this cellar. Then how would the craftsmen know whether an inkstick is perfectly dry? The director told us they check by sound. Hitting 2 pieces of inksticks and if they are ready, the sound would be clear and high-pitched. We tried but it is not easy. Only this simple check would need years of training.
Decorating Inksticks:
When the inksticks are dry, they are sent to the next workshop to paint the decoration. The painting room is just 5 metres from the cellar. The paints are mostly mineral-based pigments. The most used paints are gold, silver, and cinnabar. Different types of inkstick would need different types of paints because the paint and the soot might affect each other. This mystery could only be explained well by the craftsmen. A very warm detail is that each inkstick, no matter how small and how affordable, is painted by at least 2 trained ladies.
Warehouse: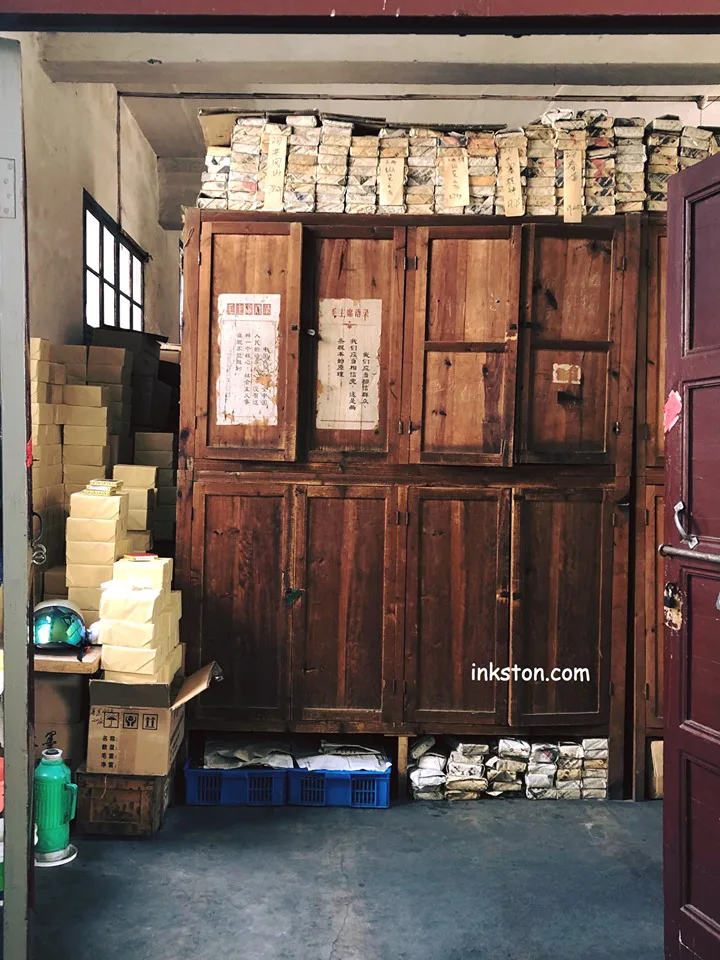 Once the inksticks are completed, they are packed and wrapped in newspaper and stocked in this room. As the oldest and the most famous inksticks factory in China, Old Hu Kai Wen still keeps many banners and posters from the cultural revolution period. This adds an extra artistic touch to this ancient inkstick supplier.
Visit Tips:
Old Hu Kai Wen has an intensive workshop for visitors who want to learn how to decorate inksticks. The course is to teach you how to paint an inkstick with gold. Normally it takes around 2 hours and you will be able to make one inkstick for yourself under guide of trained craftsmen. Of course, you can take your Inkstick with you after the course is completed. In 2019, Old Hu Kai Wen charges 80 RMB (around $12.00 per person). If you are interested, please feel free to contact inkston and we will help you book this course.
The longer the inkstick is kept, the better the quality normally becomes. Old Hu Kai Wen factory stocks old inksticks. If you need old inkstick, please contact us and let us know your preference. We will help you arrange an ideal inkstick. However, please also bear in mind that all the inksticks you get from inkston should be at least 2.5 years old already. 🙂
Sets of natural stone colours and individual stick of precious colours such as Cinnabar and Pearl.