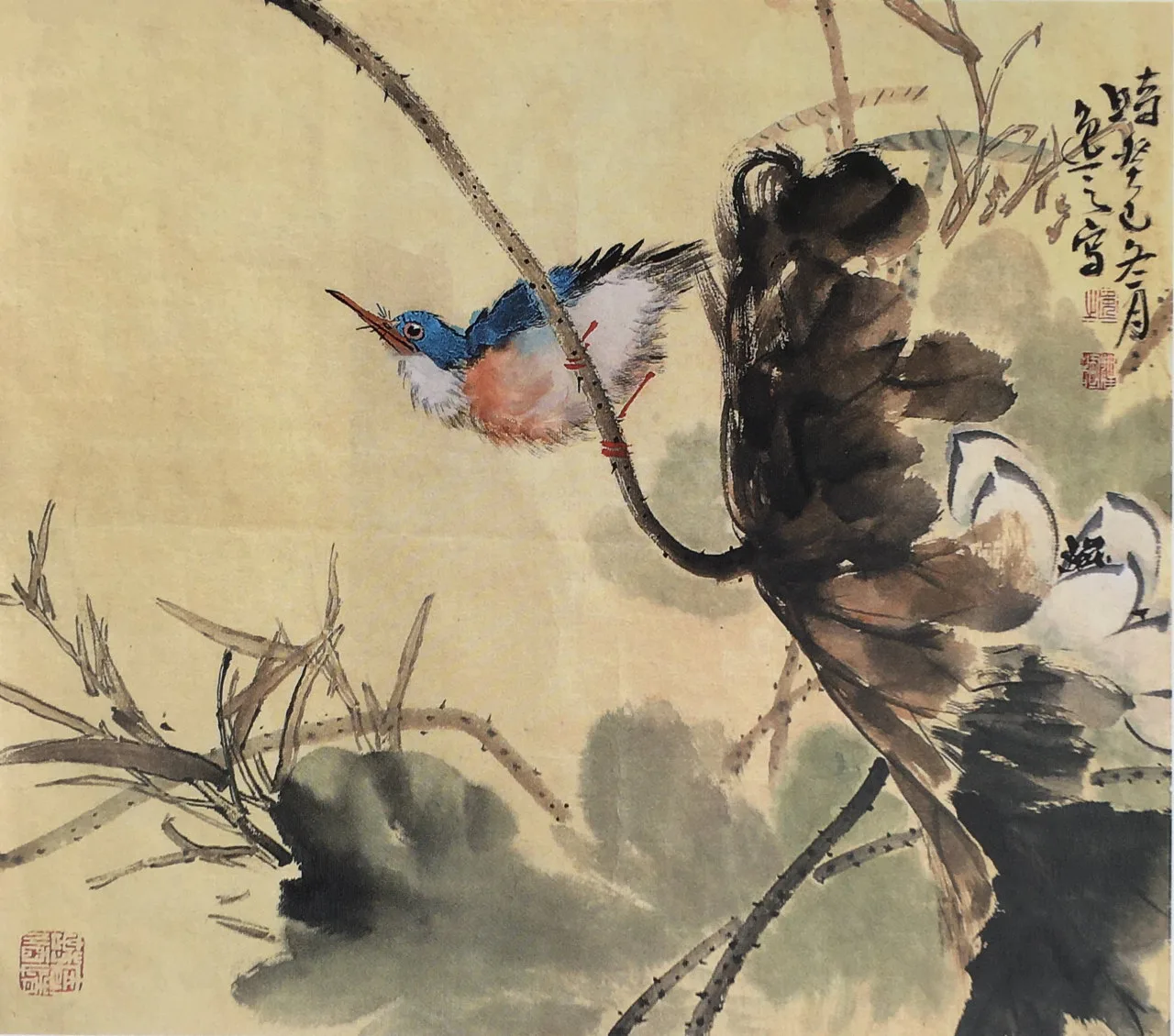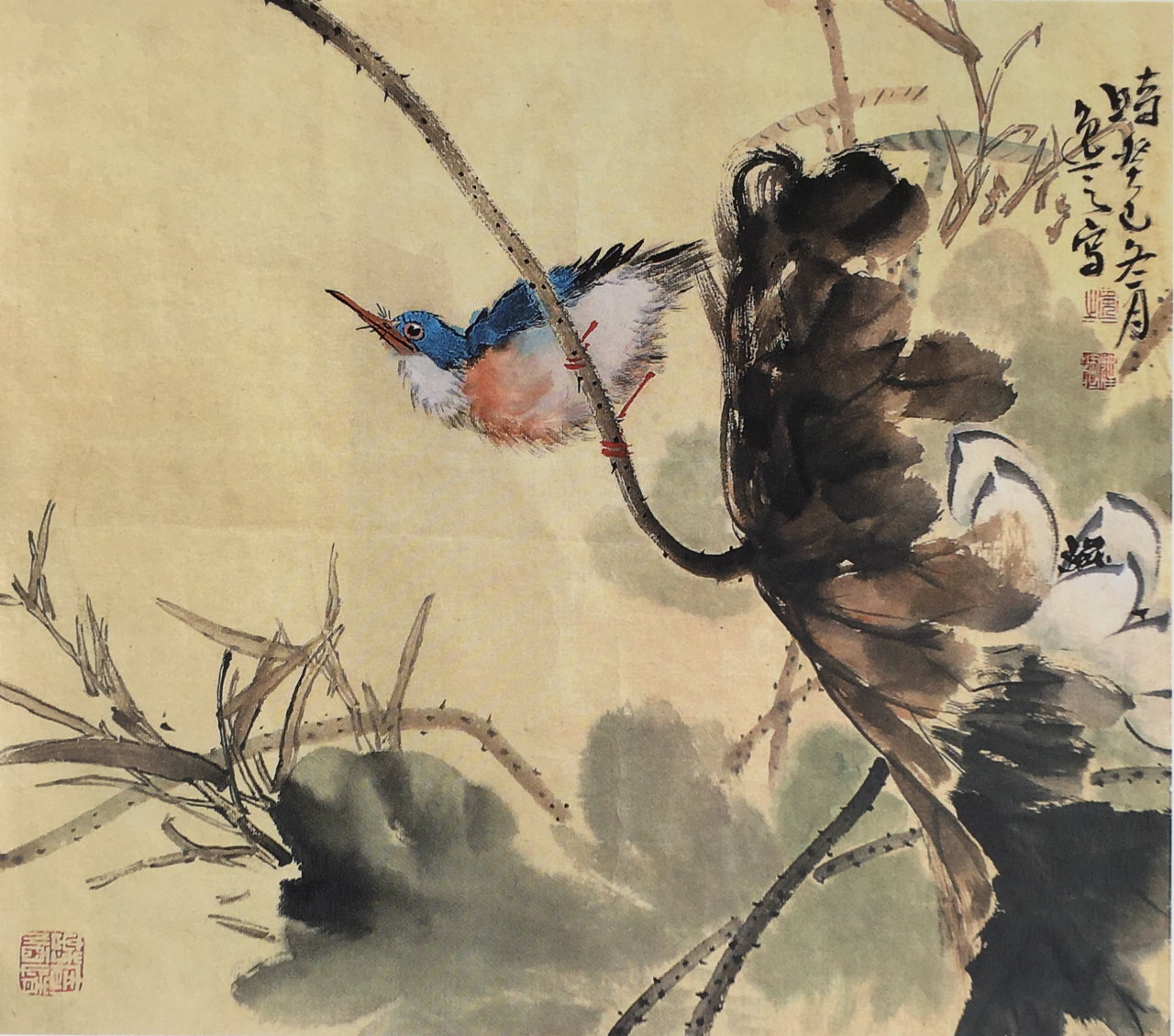 In this article, Wang Hui 汪辉 tells us about Chinese XieYi and other painting styles.
Shexian, Huizhou, near Huangshan (Yellow Mountain) in Anhui province has long been recognised as one of the most important centres for Chinese painting, as well as home also to Old Hu Kai Wen Ink workshop and traditional inkstone workshop. We asked the Shexian painters to tell us about their techniques and materials.
Wang Hui is a representative of the Xin'an school of painting which originated here. He is specialises in painting trees, birds, plants and fish. In this article, he is going to tell us how to appreciate Chinese XieYi paintings. Click on the paintings to view/browse.

All these XieYi Chinese paintings are done with Chinese raw Xuan paper, and sometimes half-cooked Xuan Paper (see: Chinese Xuan 1,000 Year Old Truth Paper section on paper types.
      中国画的精髓在于笔墨,书法很重要。写的是心中之意是写意之画。宋元时期的时候也有类似于西方的照相派,叫工笔画。写意画中国画在流失,一方面是中国改革开放以后,人的思想变化很大,缺少了以前的文人气质;现在的人也很浮躁,缺乏了古代文人静心创作的心境。中国古代有个大画家叫徐渭,心是非常痛苦的,生活的清贫他都可以克服,但是生不逢时、怀才不遇,甚至被人误解下到大牢里。他的人生和西方的梵高很类似。在当下的中国要振兴文人画,还需要加强内心的休养。讲到笔墨最好还是具体一幅地讲讲。
The essence of Chinese painting is how you use brushes and ink. Also, practicing calligraphy is important for doing well at Chinese paintings. Chinese painting is all about how you feel in your heart. In Song and Yuan dynasty in Chinese history, there was also a school which is very similar to Western realism oil painting. This school of Chinese painting is called 'Gong Bi Hua'. The XieYi Chinese painting is disappearing. On the one hand, this is because after the open and reform of Chinese economy, Chinese society has been abandoning the old intellectual spirit; On the other hand, modern life style has made people fickle and are not as calm as people living in ancient China. In China history, there was one great painter called "Xu Wei" 徐渭. He suffered a lot mentally. He could overcome the poor life quality. However, he was living in a chaotic time, and was not able to contribute his intelligence to the country. He was even misunderstood by people and was thrown to prison. His life is very similar to that of Van Gogh. I think at the moment, if China wants to promote Chinese painting, we need to emphasize on the cultivation of our own hear. Now I am going to talk about the paintings one by one.
      中国画,尤其是这一类的人文画,与中国古代的哲学有非常密切的关系,特别是春秋战国时期的诸子百家。这些思想在画家的作品都多少有体现,画家作品里也能体现出画家生活经历。
Chinese painting, especially this type, has very close relationship with ancient Chinese philosophies, especially philosophies from Chun Qiu War time. These thoughts have been more or less reflected in Chinese paintings. Also, a painting can reflect the artist's life experience.
    但是如果说到工笔画的话,现在大家比较喜欢的是这一类,画得很逼真,用西方油画的观点叫写实主义。因此,写意画也像是西方油画里面的印象派。中国画的写意是带有精神内涵在里面的。
Speaking of "Gong Bi Hua", this type is more popular at the moment. They are very realistic. In contrast, XieYi Chinese paintings are like impressionism in West. Chinese XieYi paintings have their own spirit.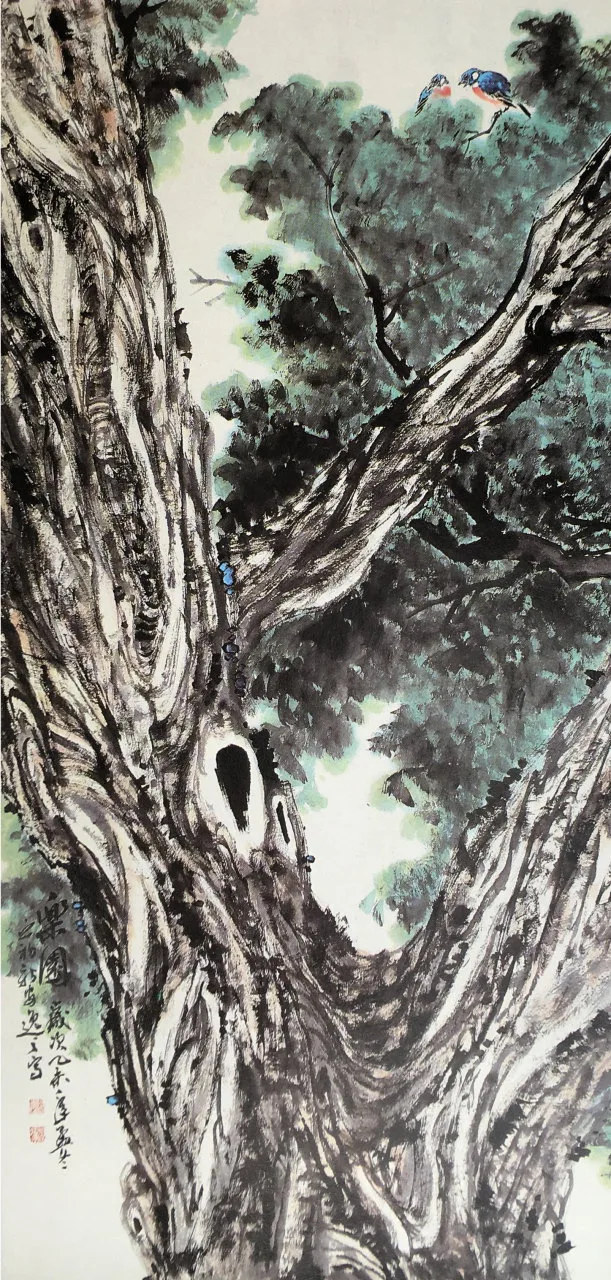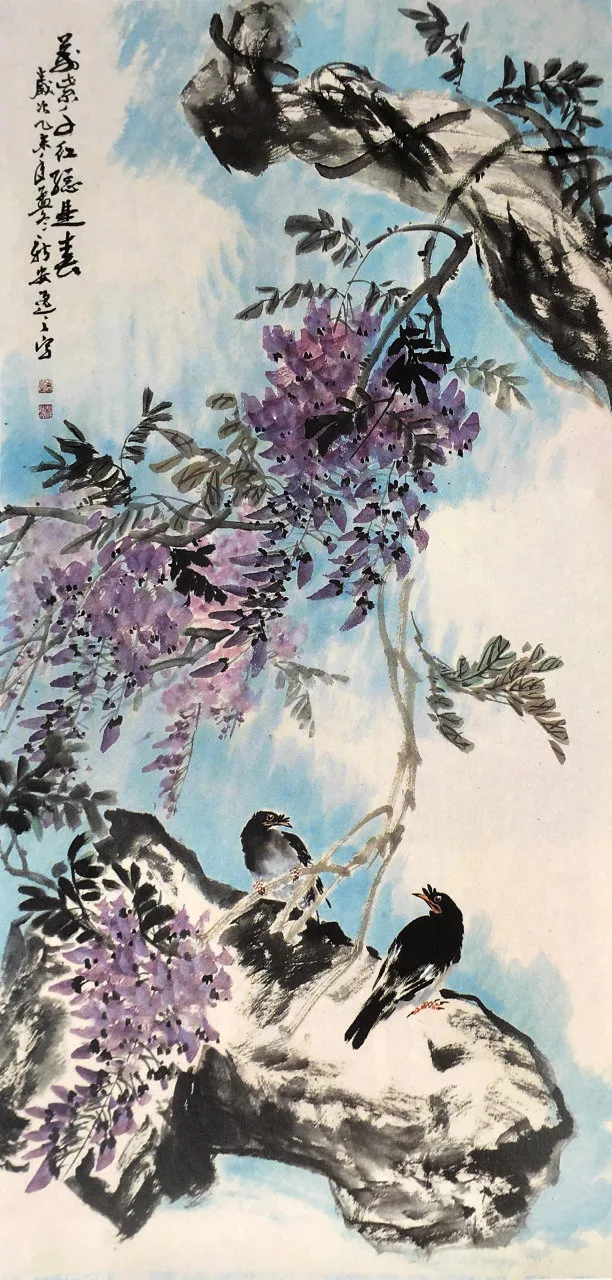 比如表现这个柏树,我题的是霜皮溜为四十围,黛色参天二千尺。在画里,你不用把四十围,两千尺都画出来,你也画不完。就画一个枝条就能代表了。这个柏树的一个枝条都有这么大,你就能想像这整个柏树是非常大的了。
For instance, when preparing to paint this cypress (on the left), I wrote 'the tree trunk perimeter is 40 meters, and the dark green tree goes up to sky as high as almost 1000 meters'. In fact, in the painting, you do not need to draw  all these details to express how big the tree is. Not to mention, you are not able to draw the whole dimensions of such a big tree in one painting. Therefore, the Chinese way is to draw the details of a branch. If a branch can be so huge, then this branch will lead you to imagine how big the whole tree is.
画整棵树的也有,像这个有个粗壮的树干,茂密的树叶,两只小鸟,题的是乐园。就说明这个参天大树是小鸟的乐园,但是这棵大树又何尝不是我们人类的乐园呢?中国画展现的是想像和空间,你要理解隐含在中国画里的意思,只有你了解了画里的意思,了解了作者想表达的感情,你才能产生共鸣,否则这幅画对你来说没有什么冲击。它不像西方油画,一眼看到就能理解。这个是不一样的。
In fact, there are also paintings about the whole tree. For example, in this painting, I painted a very big tree trunk, with two birds resting in the tree leaves. The theme of this painting is 'the garden of Eden'. It means this huge tree is paradise for the birds. In fact, this tree is also paradise for human beings, isn't it? Chinese painting makes very good use of imagination and space. You have to understand the meanings expressed by the artist. Only you understand this, you could understand the feelings that the artist wants to transfer through the painting. Otherwise, you would not feel much impressed by the painting. This might not be like traditional west paintings.
这幅画,中国画很含蓄讲究诗意表达。比如这里表达春天,中国画就画两枝花在那里,因为万紫千红总是春,这样就把春天的味道表达出来了。是一个很有诗意的表达。
Chinese paintings are poetic. This painting is to express the beauty of spring by painting some flowers. Since spring means a lot of colors, painting some purple flowers in the painting expressed the spring touch. It is a very poetic expression.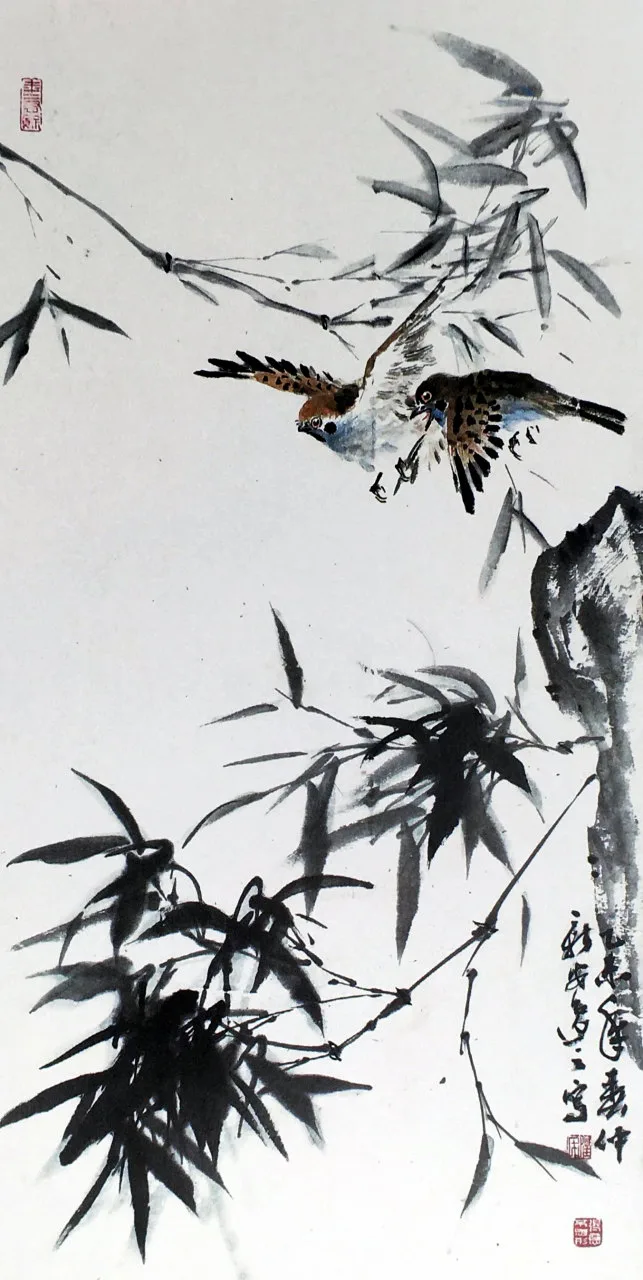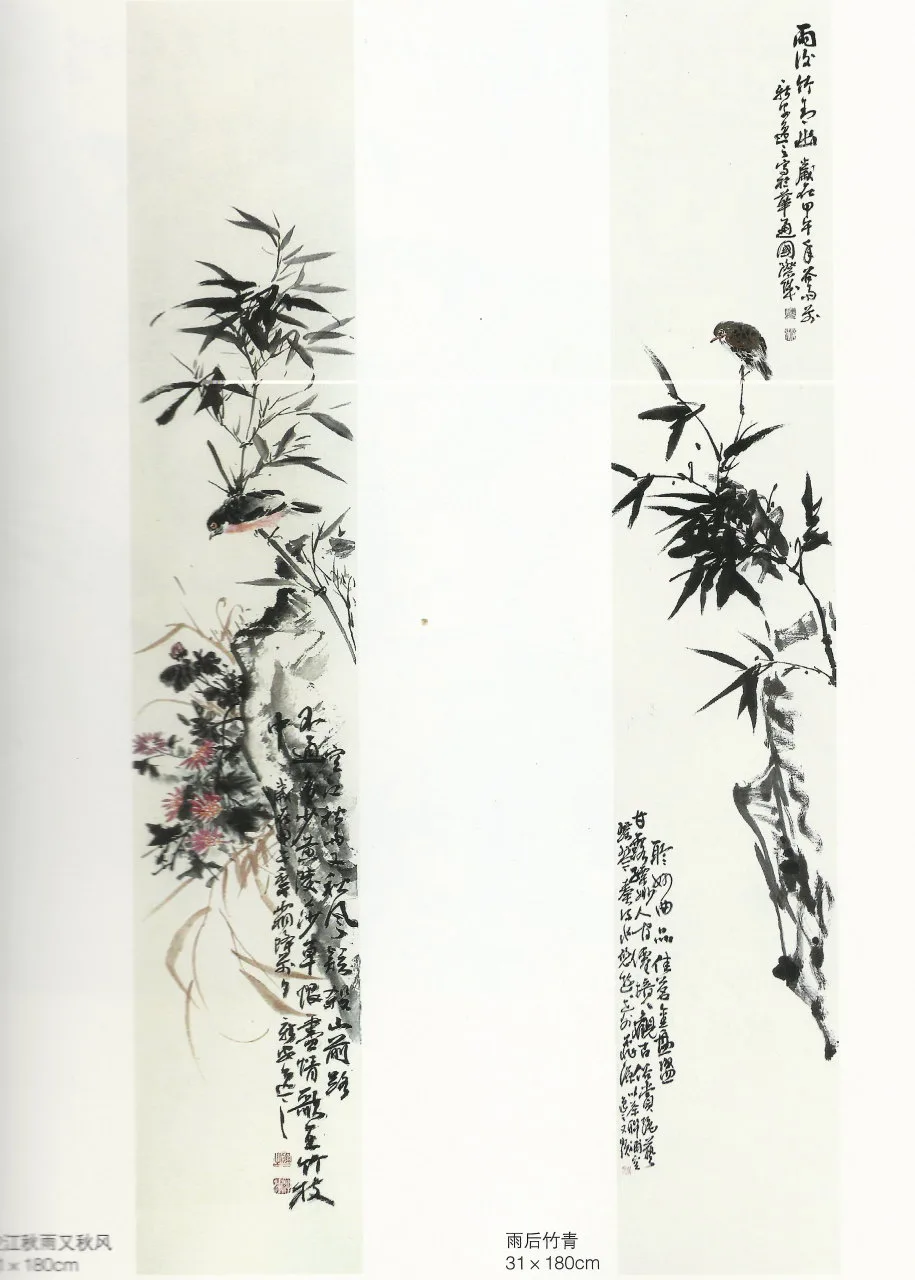 这属于大写意的。这种文人画在现在非常非常地没有市场,基本没人买。从画面构成来看,笔墨很少,惜墨如金。但是在这幅画里面又可以看到笔墨变化很多,有中峰,有侧峰,有浓有湿,有干有枯。这个对比很多,技法很难,对画者的要求很高,一是驾驭笔墨的能力,一个画者的境界。
These next are 写意画 XieYi painting ["draw meaning" freehand painting]. Now, this painting is not very well sold in market. Almost no one would buy it. From the structure of the painting, very little information is painted. In old Chinese saying, it is ' use ink like using gold.' It means you should only use the ink  when it is extremely necessary. Although there is little information drawn in the painting, you could read a lot and could see a lot of changes of the brushes, inks, etc. This kind of painting require very high skills. On the one hand, you have to master the materials, including inks and brushes; on the other hand, which is even more difficult and important, is that the artist should have very deep understanding of arts and life.
又比如这一幅画,在这个竹叶里面的变化也是非常丰富的。中国画的精髓就在这里,枯湿浓谈,虽然很小一处竹子,但是很多东西都在里面体现出来了。从整个画面来看,似乎下方比较轻,不够平衡。所以我又在下面题了诗句,这样整个画面就显得协调了。
Another example would be this painting. It is a painting of bamboos. The different use of inks and brushes have created different images of the bamboos leaves. A small piece of leave could express so much. From the whole painting, it seems a bit light and unbalanced. Therefore, I wrote a poem on the bottom of the painting. This makes the whole picture harmonized.
Chinese painting makes very good use of imagination and space. You have to understand the meanings expressed by the artist. Only if you understand this, can you understand the feelings that the artist wants to transfer through the painting. Otherwise, you would not feel very impressed by the painting. This might not be like traditional western paintings.

    从小就爱画画,但一开始父辈没有这种意识,我也没有上过专门的艺术学校,都是自学。兴趣是最好的老师,我这样坚持了三十多年。基本上能者为师,向古人学,向书本学,向朋友学。这个与油画不一样,需要专门的培训。中国画,写意画,是老师教不出来的。因为老师没有办法把他的生活经历教给你,每个人的生活历练都不一样的,画出来的意境也不一样。油画可以复制,临摹;但是中国画不可以的,当时的心境、状况都不一样的,同一个人画的画也不一样。这也是中国画特殊的地方。中国画要在特殊的状况下一气呵成,只能作加法,不能作减法。油画如果出错可以之后修改,但中国画不可以的。
I loved painting when I was little. At that time, my parents were not aware of importance to cultivate children's hobbies. I didn't go to any special art school. I learned all on my own. Interest is the best teacher. I kept teaching myself for over 30 years. Generally, whoever is better than me, they are my teachers. I learn from artists in Chinese history, from books, from friends, etc. Chinese painting is not like oil painting in west, which need special trainings. Chinese painting, especially XieYi Chinese painting, can not be taught at school because these paintings are based on your life experience. Teacher cannot teach you life experience since everyone has different life experiences. Different life experiences lead to different paintings. Oil paintings can be copied while Chinese paintings cannot. Even the same people cannot repeat the same painting because his mindset and circumstances at that moment have changed. This is the unique place about Chinese painting. Chinese painting has to be done without any stop, and you can not reduce but add. Oil painting can tolerate errors, but Chinese painting cannot.
      中国画若要细分的话,种类很多。有山水、人物、花鸟,花鸟里面又有分类。
晏如是我的字,这是有源头的。晋朝的时候中国有个叫淘渊明的,他写了一篇文章叫《五柳先生传》,这篇文章里面有这两个字。为了解释这两个字,我写了一首诗。
Chinese painting can be categorized into different types. There are paintings for landscape view, profiles, flowers and birds, etc. Also each group can be categorized into more sub-types. For example, there are many different type of paintings in flower and birds. Yan Ru is my name, and it has a reason. In Jin dynasty in Chinese history, a man called Tao Yuanming, wrote one article. The article is called < Biography of Mr. Wu Liu>. Yan Ru are the words from this article. I even wrote one poem to explain these two characters.
五柳先生传
先生不知何许人也,亦不详其姓字。宅边有五柳树,因以为号焉。闲静少言,不慕荣利。好读书,不求甚解;每有会意,便欣然忘食。性嗜酒,家贫不能常得。亲旧知甚如此,或置酒而招之。造饮辄尽,期在必醉;既醉而退,曾不吝情去留。环堵萧然,不蔽风日,短褐穿结,箪瓢屡空,晏如也。常著文章自娱,颇示己志。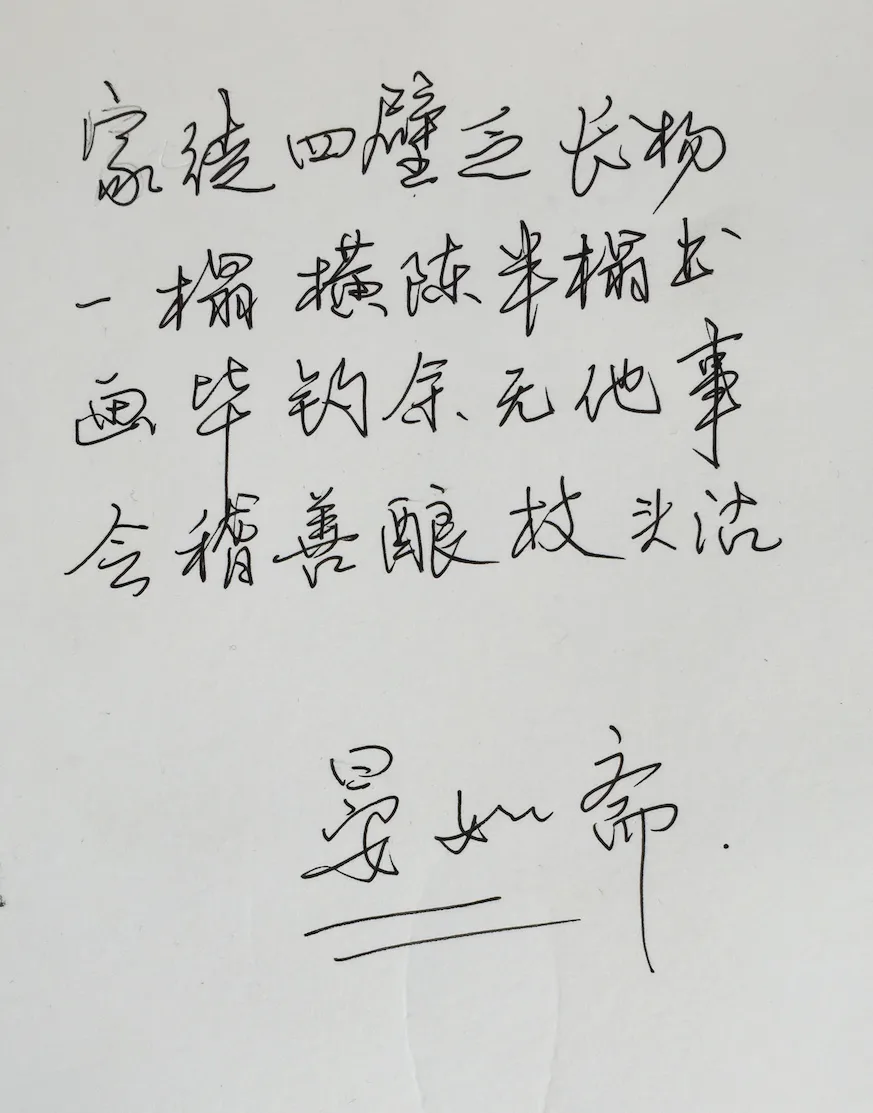 忘怀得失,以此自终。
赞曰:黔娄之妻有言:"不戚戚于贫贱,不汲汲于富贵。"其言兹若人之俦乎?衔觞赋诗,以乐其志,无怀氏之民欤?葛天氏之民欤?
家徒四壁乏长物,
一榻横陈半榻书。
画毕钓余无他事,
会稽善酿杖头沽。
        ——晏如斋
      家里墙壁都是空的,家里也没有长物,长物代指钱财。说明家里清贫。一榻是床,有一半的床都是书。这是我当时的生活写照。我喜欢画画,画毕画好了我喜欢钓鱼,钓鱼好了我喜欢喝酒。会稽善酿是非常好的酒,在绍兴。我希望自己老了,就杵着拐杖去买酒喝。
The house is completely empty, no money. This is a poor family. I have a bed. Half of the bed is for me to pile books and the other half of the bed for me to sleep. This was my life situation several years ago. I love painting. After I finish a painting, I go fishing. After fishing, I like a glass of wine. Kuaiji, a town in Shaoxing city, has very good wine. I imagine when I am old, I walk to there with cane to buy wine.
      用纸的话,写意画要生纸,工笔画要用熟纸。比如像这种画就要用熟纸;这种要生纸,最好是刚生产的宣纸放一两年再画,宣纸的火气退掉了,画画的效果好。纸的区别非常微妙,画家需要掌握纸本身的微妙之处,古法制作的纸有其优势,现代的纸也有其优势。檀皮一定要有。四川的竹子也有用来做纸,大部分画家很难掌握它,张大千就很爱用这种纸。张大千是四川内江人,他能驾驭掌握,画起来得心应手。很多地方都产纸,经过对比,泾县的宣纸很好。

Regarding the painting papers, XieYi paintings need to use uncooked Xuan paper while Gong Bi Hua cooked Xuan paper. For example, this type of painting needs to be done on uncooked Xuan paper. Xuan paper needs to be stocked for one to two years before being used when the Xuan paper has been oxidized enough. The differences between papers are very subtle. You have to master different kinds of papers in order to paint well. Traditionally-made Xuan papers are very good and modern-made Xuan papers also have their own advantages. Tree barks are crucial materials for making Xuan paper. In Sichuan, bamboo leaves are also used to make paper. For most artists, it is very difficult to master bamboo papers. Zhang Daqian, a very famous contemporary Chinese painter, liked using bamboo leaves paper very much. He is from Neijinag, Sichuan. He can master this paper and make the most of it when painting. Many places produce Xuan papers but the best Xuan paper is made in Jing Xian, which is also called Xuan city.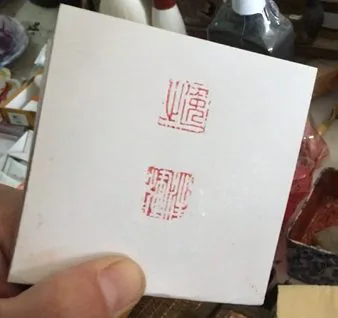 在这里我也要讲讲印章,很多人都不太了解。印章要有两个,一个阴文,一个阳文。印章的大小不能超过题字的大小。这个是要非常注意的。
Speaking of seals, many people do not understand it. It is necessary to have a set of seals, one "Ying" and one 'Yang'. The size should be no bigger than the size of characters on the painting. It is important to pay attention to these details.
Painting Fish
今天我来演示一下,不作为创作,只是演示中国画的基本步骤。中国画分山水、人物、花鸟,这是简单的划分。但是细分的话,就很复杂了,尤其是花鸟,分为飞禽、走兽,等。今天我画画鱼。中国画意在笔先,在画之前,你就是对形状有所确定了解,但是在画的过程中,可以用自己的笔法来体现枯湿浓淡的笔墨的丰富性。我的用笔过程中有中分侧分,有枯湿浓淡的变化,有笔肚与笔尖的变化,有墨色的变化。刚才是用色彩画的,现在我换成墨来画。
Today I am going to show you how to do a Chinese style painting. It is not creating an artistic piece. I am just showing you the basic steps. Chinese paintings have different categories, such as landscape, profile, flowers & birds, etc. This is a very simplified way to categorize Chinese paintings. Today, I am going to show you how to paint fish. When doing Chinese painting, you have to know clearly on what you are going to paint. You have to know the shape of the things you are going to paint. When you are painting, you can use your methods of using brushes and inks to express the deep meaning of the painting. I use the middle and side part of the brush. The inks can be light, strong, dry, and wet. You can use the point of the brush, the body, and the bottom of the brush to create different images. I used colors to paint, now I am going to use some ink.
我想通过画鱼来表现庄子逍遥游的自由自在。这里点墨,代表眼睛。然后用藏青画水草。水草要有浓有淡,有聚有散,因此这边少一点这边要多一点。中国画讲究对比,黑白、多少、浓淡、枯湿、聚散等等,因此中国画是非常丰富的。比如现在的点胎,点的多少,位置,轻重都是有讲究的。
I want to express Zhuang Zi's idea about freedom. This is 'dip ink', which mean eye. Then, I use some dark green ink to draw water grasses. Some plants are gathered while others are scattered. This side has more grass, while the other side less. Chinese paintings pay a lot of attention to the comparison, black and white, abundance and few, strong and light, dry and wet, gathered and scattered, etc. Therefore, we think there are many ways to interpret Chinese paintings. For example, now I am 'Dian Tai'. During this process, I should be careful about how much of ink I can use, where, and how much strength I should use on brushes.