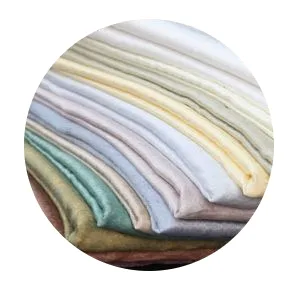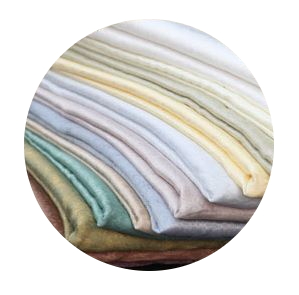 Silk and tea might be the two most well-known products when we talk about China. Besides using for clothing, silk has been playing an important role in Chinese art history since over 1000 years ago. In Song Dynasty, when the Chinese Gongbi birds and flower paintings reached its peak, most of the greatest Gongbi paintings are done on silk. Like Xuan paper, silk also helps preserve these valuable art works for thousands years. However, different from Xuan Paper, painting silk does need extra care during painting.
This article we will briefly talk about how to prepare painting silk for painting purposes, as well as some basic and useful techniques for creating art works on silk. To be specific, you will find information about: how to stretch silk before start painting, sizing techniques, plus some small tips on applying pigments on silk. 
Xuan paper is a valuable material, and high quality silk normally is even much more valuable. This article almost includes all the information you need to know about how to use painting silk. Nevertheless, if you have any extra question which is not covered in this article, please feel free to contact us.
Stretching Silk
Normally, when you plan to paint on fine painting silk, first thing is to stretch the silk so that it will stay flat and make it easy to paint. This is because silk 'breathes', if it is not framed when you paint, it will not be flat when some part is wet with colour while other parts are still dry.
Materials needed: painting silk, frame which should be smaller than the painting silk size you need, spray bottle filled with cold clean water, big flat soft wool brush, big size painting mat which should be bigger than the painting silk you need for painting.
Here is the guide: 
 lay the big size painting mat on clean flat floor;
cut the painting silk to the size you need and lay it gently on the big size painting mat which you have already laid on floor;
use spray bottle to spray water evenly on the painting silk surface; and repeat this 2 to 3 times;
use big size flat wool brush to brush the silk surface to make sure the water is evenly applied on silk and to help silk get rid of extra water;
lay gently the frame on the painting silk and fix the frame with clips or glue; the silk would be stretched and attached to the sides of the frame, a bit like the round silk fan;
after the silk is stretch and dry, you can start painting.
This instruction above shows how to stretch silk and it is not difficult to learn. The key note is to always ensure the silk surface is flat.
Currently inkston does not supply frames, but you can easily fine inexpensive good quality frames in your local art shop or supermarket. When Inkston supplies find frames, we will publish it in our newsletter. You can subscribe our newsletter to get the latest news/ promotions from us. 
Sizing Techniques
Like Xuan paper, painting silk is categorized into two groups: sized, and un-sized. High quality painting silk is made with pure silk. However, since silk is not absorbent and does not help colour to stay, it is necessary to 'coat/ size' silk with alum and glue. In China, the liquid made from alum and glue is also named 'Alum Gelatin water', 胶矾水. Coating silk with this liquid is also sizing process.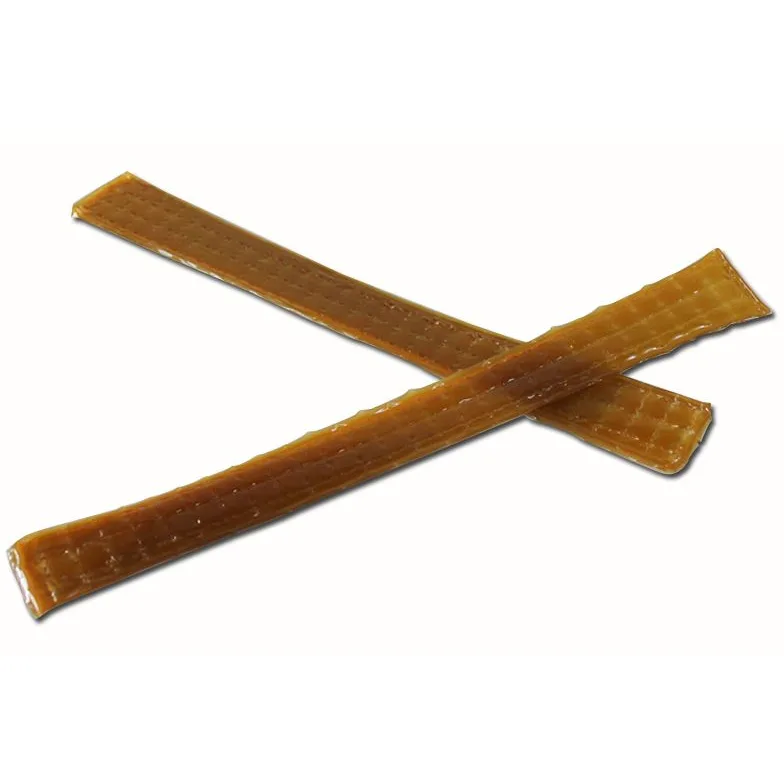 Knowing sizing techniques is probably most helpful for painting on silk. The percentage of alum and glue should be strictly controlled. Too much alum will make it difficult to apply colour; while too little alum prevents perfect colour effects during painting. Centuries ago, Chinese professionals summarized a formula to make such liquid. Compared to plant based glue, animal glue produces better effects. Traditional Natural Animal Gelatin which is called San Qian Ben Jiao 三千本胶 is the most widely chosen gelatin to make such liquid.
According to Chieh Tsu Yuan Manual of the Mustard Seed Garden, for different seasons the proportion of the formula is different.
In summer, 60% gelatin to 40% alum;
In autumn, 80% gelatin to 20% alum;
In winter, 70% gelatin to 30% alum.
In summary, in order to make the most of fine painting silk, knowing how to size it is very helpful. You would need to prepare natural glue *better animal gelatin, and alum. For the animal gelatin, you can refer to the traditional Chinese San Qian Ben Jiao 三千本胶 , for alum, you can find it easily at your local pharmacy. There is also a discussion on where to buy alum powder in your country.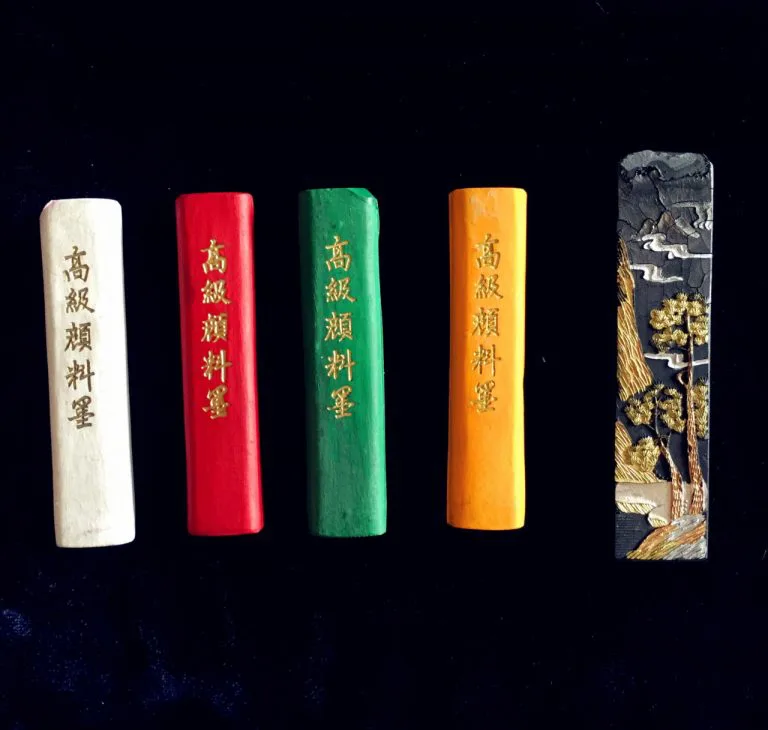 Natural pigments are the best choices for painting on silk. Using the alum and gelatin to help apply colours on silk. This will help make the most of the fine materials. For natural pigments, you can refer to our article: Chinese Colours. A special note on black is that try to use traditional Chinese black ink. The oil soot or turpentine soot ink performs best on fine painting silk. It can be quite complicated to choose inkstick. For more information on how to select inksticks, please refer to our article on Inkstick Buyer's Guide.
Select Painting Silk
Currently in market, both Japan and China produce very high quality painting silks. At Inkston Studio, you can find both available. Besides professional painting silk, we have also selected 2 types of fine painting silk fans. The already framed silk fans allow you to paint directly without stretch silk. The sold by meter painting silks are the two top quality silks we have found so far in market. All are suitable for all level painters, including beginner, intermediate, advance, and professionals.
Famous Ancient Paintings on Painting Silk
Painting silk is extremely famous for its fantastic performance for Gongbi painting style. As we all know Chinese Song Dynasty has reached the highest peak for Gongbi painting genre, here we listed some very nice Song paintings.
Want to know more about Song Painting on silk, click this link and read on.
Victoria and Albert museum have a nice video about gongbi painting on silk: